Damas Rodriguez, Jr.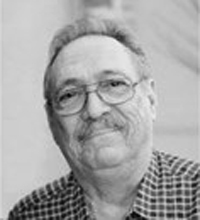 Damas Rodriguez, Jr. went to be with the Lord on June 15, 2017. He was born September 14, 1945 in Benavides, Texas to his parents Damas & Maria Rodriguez. He went to San Diego High School and graduated 1964; he then went on to receive a degree in Chemical Engineering from Texas A&I University in 1969. He worked in the Oil & Gas industry for over 40 years, traveling with his wife and children all over the world to countries in South America, Europe and Asia. He retired from Saudi Aramco in 2007 and lived with his wife in Katy, Texas. He was a loving and caring Husband, Father and Grandfather.
Damas had a passion for music, was a drummer in his high school marching band and played guitar. He insisted on introducing his children to all types of music from big band, jazz, classical, rock and especially his favorite, Tejano. He also loved to cook and entertain for his loved ones.
Damas married the love of his life on June 27, 1970. Unbeknownst to them, they were truly a match made in heaven - they were both left handed, they were both baptized on the same day in the same church, they were in the same kindergarten class, fell in love at the sweet age of sixteen and married in 1970 in the same church they were baptized in. He loved hard and always ensured his family was cared for.
Damas is preceded in death by his parents, Damas & Maria Rodriguez; his brothers Gustavo and Francisco Rodriguez; his sister Grace Perry and his aunts Beatrice (Bache), Concepcion (Chonita) and Maria Gila Rodriguez.
He is survived by his wife for 47 years, Regina Rodriguez; his two children Gloria Ralston (Brian) and Eduardo "Eddie" Rodriguez; two grandchildren Christian and Giuliana "Gigi" Ralston; and three sisters Tiva Jasso (Reynaldo), Belen Salinas and Gila Deleon (Ernesto).
Visitation will be held from 5 till 9 pm. on Monday, June 19, 2017 at the Garza Funeral Home in San Diego, Texas with a Rosary at 7:00 p.m. that evening. Funeral Mass will be celebrated at 10:00 a.m. on Tuesday, June 20, 2017 at St. Francis De Paula Catholic Church in San Diego, Texas. Interment will follow at the San Diego Cemetery in San Diego, Texas.
Arrangements entrusted to Garza Funeral Home.