Dorothy Dare Richards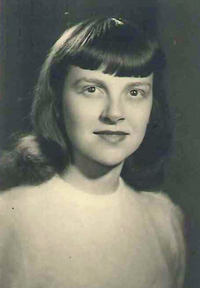 Dorothy Dare Richards of Metairie, LA passed away peacefully on Wednesday, July 4th, 2018 at the age of 95. Mrs. Richards was born on April 16, 1923 in Carthage, Missouri.
She is preceded in death by her parents the late Harlow Earl Stalker (b 1899) and the late Virginia Dare McMurran (b 1906), by her beloved husband of 62 years, Frank Richards (b 1916), and by her dear sister Irene Storck. She is survived by her four children; Frank Michael, Dorothy Carole, Steven Alan and Jon Anthony; son-in-law Nedret Karan; daughters-in-law Irina and Debra, and sister Shirley Rich. She is also survived by grandsons Cem Frank Karan, Jon Patrick Richards, and Matthew Kesler Richards, granddaughter Meral Karan (Delhaye), great-grandsons Emre Antoine Delhaye and Jacob Henry Karan, and numerous nieces and nephews.
Dorothy and Frank married in 1942 during World War II. After his Army service in the Pacific she met him in Hawaii where he was demobilized. After that, the two wanted to see and travel the world together. It is fair to say they did so, living and working together for almost 35 years at many expatriate locations in Hawaii, England, Lebanon, Syria, Venezuela and Saudi Arabia. After retiring from Aramco in 1976 they lived together in Virginia, Florida, Missouri, North Carolina, and most recently Dorothy lived in Louisiana. She was an avid reader and loved to sing and garden. Throughout all their travels she was a caring daughter, loving sister, devoted wife and nurturing mother and will be greatly missed by family and friends. Her Life was Well Spent and she is Remembered with Love.
The family would like to express their gratitude to the staff of AmeraCare Hospice and Brookdale Memory Care for their compassion and help during this difficult time. Private Family Service to be held at a later date in North Carolina. Tharp-Sontheimer Funeral Home, Metairie.