Fred A. Davies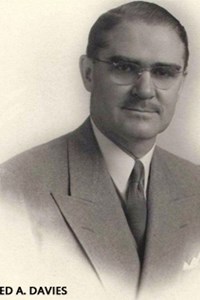 Fred A. Davies was born on April 17, 1894 in Aberdeen, South Dakota, and grew up in Minneapolis, Minnesota. He graduated with a degree in mining engineering from the University of Minnesota Department of Mines in 1916. After serving in the Army during World War I, he worked as an oil geologist for the Greenwood Company, and then for the Anaconda Copper Mining Company as a metallurgist. In 1922 he joined the Standard Oil Company of California (Socal) as a geologist, exploring for oil in the Rocky Mountain area.
In 1930, Socal sent him to the Persian Gulf to conduct a geological survey of the Island of Bahrain, on which it had recently purchased an option for an oil concession. He also visited Iraq and Iran to look at oil drilling activities there and to investigate geological similarities between these areas and Bahrain and, by extension, Arabia, which he was unable to obtain permission to visit. Following his recommendation that Socal invest in drilling a test well on Bahrain, the Bahrain Petroleum Company (Bapco), a Socal subsidiary, began commercial drilling operations on the island in 1932, under E. A. Skinner.
From 1931 to early 1934 Davies served as assistant manager of the California Company, another Socal subsidiary, in Dallas, Texas. He then returned to Bahrain, temporarily replacing Skinner as Bapco's field manager. In October 1935, after Socal's affiliate, the California Arabian Standard Oil Company (Casoc), had begun drilling the huge Dammam Dome oil field in eastern Arabia, he was transferred to the Arabian mainland as general manager of its field operations there. He oversaw the drilling of seven test wells, as well as a substantial expansion of the American and Arabian workforce and the attendant camp and transportation facilities.
Davies returned to the United States in 1937 and served as Bapco's production manager, with offices in New York City, until 1939. He then moved to Socal's headquarters in San Francisco as assistant manager of its foreign division. In 1940 Casoc was separated from Socal's foreign producing division and made an independent entity, and Davies was named its president. By this time, it held in Saudi Arabia an oil concession of 250,000 square miles (162 million acres). In 1944 it changed its name to Arabian American Oil Company (Aramco).
In 1947, Aramco separated its corporate administrative and engineering activities. Davies stepped down as president, not, it appears, entirely voluntarily, to become vice-president in charge of production and exploration. He moved back to Dhahran in Saudi Arabia in 1949. In 1952, Aramco moved its headquarters to Saudi Arabia, and Davies was named its chairman of the board and chief executive officer. He served in that capacity until his retirement in 1959, when he moved to Lafayette, California.
Davies and his wife, Amy Louise Burlingame, had two children, Fred M. and Mary Lou (Mrs. Nathaniel Robbins). He died in Walnut Creek, California, on February 3, 1975, at the age of 80.
Biographical information was taken from the papers and from Wallace Stegner, Discovery! The Search for Arabian Oil (Vista, Calif.: Selwa Press, 2007).