Henry Joseph Gray Jr.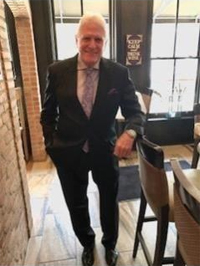 Henry "Henny" Joseph Gray, Jr., age 70, of Chesapeake City, MD, passed away on Sunday, December 27, 2020. He was born on April 20, 1950 in Wilmington, DE to the late Henry Joseph Gray, Sr. and Jean Marie (Ahern) Gray.
Henny was a graduate of Elkton High School class of 1968. He worked as an electrician with IBEW Local #313 for 43 years. Henny moved to Saudi Arabia in October, 1978 and worked as a general foreman for ARAMCO for twenty-two years. He returned to the US in 2000 and traveled internationally supervising many projects as an independent consultant until the time of his death. Henny 's motto was, "If they get me tomorrow, I won!" He often mentioned that he had done it all, that life has been good, and he would only miss his family and friends. Henny was greatly loved and respected and will be dearly missed by all who had the pleasure of knowing him.
Henny is survived by his son, Christopher Joseph Gray and his companion, Michelle; sister: Carol Bennett; brothers: Ronnie, Barry, Jack, and Jerry Gray; grandchildren: Christopher Gray, Jr., Katie Gray, and Harleigh Barnes; great- grandchild, Noah Barnes, and Cassie Gray Blankner. In addition to his parents, Henny is preceded in death by his daughter, Lisa Ann Gray.
In lieu of flowers, memorial contributions may be made payable to "" and send in care of the funeral home, P.O. Box 27, Chesapeake City, MD 21915.
Services will be held privately at the convenience of the family. A life celebration will be held at a later date to honor Henny's life.