Katherine Gennes Westling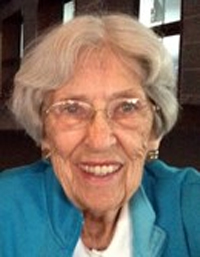 Katherine (Kay) Gennes Westling, 98, passed away on March 10, 2018. A child of Norwegian immigrant parents, she was born December 30, 1919 in Bemidji, Minnesota, and was the youngest of seven (7) children. She attended Bemidji High School and Bemidji State Teachers College where she majored in Music and English. She was named Bemidji State's Homecoming Queen in 1941.
After college, Kay moved to Van Meter, Iowa, to teach school. When World War II broke out, she was recruited by her music professor to join the United Service Organization (USO) and served in Junction City, Kansas, before accepting a promotion and moving to Long Beach, California. In September 1951, after saving $50 per month for over a year, Kay and a girlfriend traveled to Europe visiting England, Germany, France, Switzerland, Holland, Italy and, of course, Norway. After the trip, she took a position as Teenage Director of the YWCA in Spokane, Washington. There, she met her husband and best friend Jim Westling. Jim and Kay were married in 1955 and settled in Van Nuys, California. They had a daughter, Kathi and a son, Jim. In the summer of 1970, the family moved to Ventura, California, where Kay taught piano to numerous students over the years. She was the biggest cheerleader for her children's activities, attending many swim meets, baseball games and other sporting events.
Kay was always ready for adventure. In 1979, they moved to Dhahran, Saudi Arabia, where she worked in the Aramco library, taught piano, hosted numerous parties and made many life-long friends. Together, she and Jim traveled around the world, visited many countries and took many, many pictures. When Jim retired, the couple returned to their home in Ventura, California. Besides her family and travel, Kay enjoyed writing letters (that no one could read), her many friendships developed over the years and Dodger baseball! She had a great sense of adventure, a compassionate heart and the ability to laugh at herself.
Kay is survived by her daughter Kathi Westling Liddle; son Jim Westling (Jacque); and her four (4) grandchildren whom she loved so much, Kristen Liddle Green (Cody); Steven Liddle (Erin); Jimmy Westling and Jeffrey Westling.
Celebration of her life service will be held in Ventura, California, at a later date.