Patrick Francis Flynn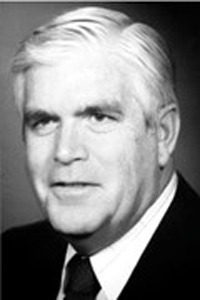 Flynn, Patrick Francis, of Yorba Linda, died peacefully in his sleep on Tuesday, April 18, 2017. He was 84 years old.
Patrick was the oldest of Bernard and Miriam Flynn's 14 children. Born on September 15, he was delivered at St. Vincent's Hospital in Los Angeles. His first home was in Downey, which was then a community of dairy farms. As the Flynn family grew, his parents moved to a large home in Anaheim, surrounded by 14 acres of citrus orchards. The family was well known and were prominent members of the community of St. Boniface Roman Catholic Church. Patrick remained a devout Catholic throughout his life.
For secondary education, Patrick and his brother Bernard went east to school, attending Portsmouth Priory in Rhode Island. Patrick then returned to California and attended Villanova in Ojai. He later joined the Marine Corps and after an honorable discharge, attended and graduated from the University of Southern California (USC), remaining a loyal alumnus.
He met and married Nellie Ann Beatty, a Wisconsin native, in 1957. They lived in Redondo Beach and as their family began to grow they moved to Yorba Linda in 1962.
In the ensuing years, the Patrick and Nel Flynn family grew to seven children. They attended St. Joseph Catholic Church in Placentia and then the new parish of St. Martin de Porres in Yorba Linda. Patrick's faith in God was one of the great contributions he shared with his children.
A talented writer, Patrick pursued a career in public relations. He worked for a number of firms in the Southland, including architectural and engineering firm Daniel Mann Johnson & Mendenhall (DMJM). He ventured into the Kingdom of Saudi Arabia working for the Parsons Corporation on the Yanbu City project. After several years in the Middle East, Patrick moved with his wife Nel to Houston, working for Aramco.
Patrick and Nellie returned to Yorba Linda and he began an active retirement. He worked with a number of organizations and outreach programs. He helped with the Yorba Linda Veterans Memorial at Veterans Park. He also worked on behalf of Veterans for Peace and the American-Arab Anti-Discrimination Committee, as his years in the Middle East ignited an interest in the geopolitical issues of that region. He was also a member of OUCH, a group opposing residential density changes in Yorba Linda's foothills.
Patrick was known to be kind and caring. He hosted meals and events and remained concerned and involved in his family's welfare. He was an avid reader and kept up with current events through multiple newspaper subscriptions. He maintained a large collection of books and was blessed with an encyclopedic recall of many subjects, especially history.
He will be dearly missed.
Patrick is survived by his children, Stephen Reynolds (Donna), Patrick Flynn Jr., Maureen Flynn-Becerra, Hillary (Robert) Ondo, Kevin, Kathleen, Bryan (Cory) and Shawn (Tiffany); his siblings, Rosalie Flynn Murphy, Rita Flynn, Michael Flynn, John Flynn, Dr. Thomas Flynn, Brigid Flynn Haeckel, Cecilia Flynn and Stephen Flynn; 23 grandchildren and 5 great-grandchildren.
He was preceded in death by his wife, Nellie; sister, Mary Eydt; and brothers, Vincent and Bernard.
A funeral mass will be held on Friday, April 28 at 10:00am at St. Martin de Porres Catholic Church, 19767 Yorba Linda Blvd, Yorba Linda, CA 92886. A Rosary will be held the night before on Thursday, April 27, 7:30pm. Following the mass on Friday, the interment will be at Holy Sepulcher Cemetery in Orange, CA.
Funeral arrangements: Scott McAulay Family New Options Funeral Service, Fullerton (714) 528-7100.
In lieu of flowers, please consider donating to Catholic Charities or a charity of your choice in Patrick's name.