Ruth Golden Ingham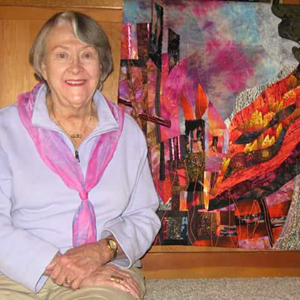 Ruth with one of her vibrant quilts.
Ruth Golden Ingham was born in Lakewood, Ohio on April 5, 1931 and died on December 1, 2016. Ruth and Leonard M. Ingham moved to Saudi Arabia in 1967. They lived in Ras Tanura from 1967 to 1973, then in Abqaiq from 1973 to 1979, and again in Ras Tanura from 1979 to 1982. Ruth taught art in both Aramco Schools, was an active member of the art groups and inspired many students, both youth and adults. Ruth was also a swim coach in Ras Tanura and a horseback rider. The couple supported the stable activities in both communities. After Len's death in 1982, Ruth moved to Central Oregon but returned to Aramco communities to visit her children and grandchildren and teach art for the groups she supported when she was a resident in these Aramco communities. She also enjoyed the excursions hosted through the Aramco Annuitants.
Ruth's professional life included fashion design, modeling, painting, art-to-wear and quilting. Following her 15 years in Saudi Arabia, Ruth moved to Black Butte Ranch, Oregon where she taught classes for Central Oregon Community College, the Stitchin' Post and arts groups throughout Oregon, the US and Saudi Arabia. She was elected to the Oregon Watercolor Society and was a featured quilter and inspirational quilter at the Sisters Outdoor Quilt Show. She created a stunning collection of art quilts which have been included in traveling exhibits and are highly sought after. She was also a quilt restorer and appraiser which enabled her to connect many people to their own heritage as she evaluated family heirlooms.
Ruth is survived by children: Linda Rummel (and Len) of Lebanon, Oregon, Lee Ingham (and Jackie) of Austin, Texas and Claudia Ingham (and Conan Schleicher) of Salem, Oregon. Ruth and Len's five grandchildren and one great granddaughter traveled, played and loved their time spent time with Ruth. 
The family welcomes those who knew Ruth to join them for a celebration of life to be held at Black Butte Ranch in Central Oregon at 1:30 pm on April 5, 2017. Please contact Linda, Lee or Claudia at [email protected] for details.