Susan Elizabeth Webster Slavin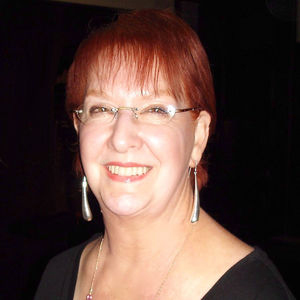 Susan Elizabeth Webster Slavin, 76, died on Tuesday, 25th of July 2017, after a valiant fight against cancer and other serious ailments. She was surrounded by her family when she entered the Lord's arms.
Born in Shelby, Montana on January 27, 1941, she led a life of drama and adventure and made an indelible impression on people wherever she went. The daughter of an executive with the Arabian American Oil Company, she grew up in Dhahran, Saudi Arabia and attended boarding schools in Europe, the Middle East and the U.S. She owned two Arabian horses and was a champion rider. She graduated from Rosemary Hall in Greenwich, Conn. in 1959. In 1962 she married the love of her life, Charles F. Slavin, a member of the U.S. Coast Guard – and for the next 16 years she served honorably as a military wife, bringing up three children in nearly a dozen homes in seven states from the East Coast to Alaska. She and her family settled in San Antonio in 1978.
In 1979, Slavin began a successful career in jewelry sales and management. She worked for Mission Jewelers, Shaw Jewelers, JPA Gold & Diamonds and Lloyd's Jewelers for more than 30 years. In retirement she focused all of her energies on helping to raise her grandchildren and enjoying favorite pastimes, including creating beautiful heirloom Christmas wreaths for family and friends. She was a fabulous cook, dancer, gardener, animal lover, homemaker and conversationalist and had friends from all walks of life. She never met a stranger. Her sense of humor, vivacious personality and bright red hair lit up a room. Most of all, she fiercely loved her family and there wasn't anything she wouldn't do for them.
She was preceded in death by her husband, Charles F. Slavin, and her parents, Mr. and Mrs. Kenneth R. Webster. She is survived by her children, Kenneth R. Slavin of San Antonio, Albert P. Slavin II of New Braunfels and daughter Alice Slavin Gaiser of Fair Oaks Ranch; daughter-in-law, Newell Holland Slavin of New Braunfels and son-in-law, George Nolan Gaiser Jr. of Fair Oaks Ranch; sister, Judith Webster Bauer of Seattle; six grandchildren, one great-grandchild, cousin, Richard B. Jenner of Sweden, a large extended family and innumerable friends.
Visitation will be from 6-7 p.m. on Friday, August 4, at Porter Loring Mortuary North, 2102 N. Loop 1604 East. Rosary will be 7-8 p.m. with brief remarks from family members immediately following. A funeral Mass will be celebrated at 10 a.m. Saturday, August 5, at St. Peter the Apostle Catholic Church, 202 W. Kronkosky St. in Boerne – with reception to follow immediately after in the church hall. Slavin will be buried privately at Fort Sam Houston National Cemetery on Tuesday, August 8, 2017.