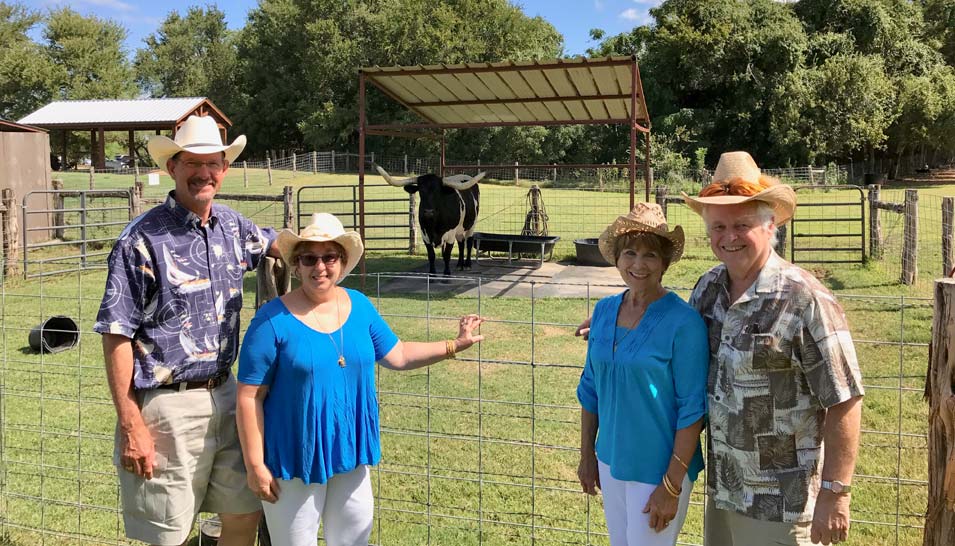 Austin Hafla 2018 may be less than 8 months away, but it feels as though it's just around the corner. We hope you will join us for a great time at the Hyatt Regency Lost Pines Resort and Spa this September. Here's a peek behind the scenes at our Hafla planning. Our activities and dinners are scheduled for September 16, 17, and 18, but early registration will begin on the 15th.
Volunteers are busy planning tours, recommending speakers, finding photographers and florists, recruiting volunteer assistants, and helping plan your activities at the Hyatt. So far, we have golf, trap shooting, and bridge tournaments scheduled. Art classes are also in the works. We have Scott Mussett to thank for graphics and our beautiful logo. Aramcons are such talented folks!
Golf Course Waterfall
Trap Shooting
Are you interested in a tennis tournament or perhaps line-dancing, a bird-watching hike, or a yoga class? This is your Hafla, and we know you're experts at creating self-directed groups. We'd love to hear your ideas and give you a chance to shine.
As cohosts, we're having fun listening to bands we think you will enjoy. Two out of three are already selected. We'll be dancing to Country/Western on Sunday night, Big Band classics at Monday night's Gala Banquet, and Rock & Roll favorites from the good ol' days on Tuesday night. Vicki and Judy joined Jeff Squires recently to experience a presentation by a funny Austin historian. In Texan vernacular, she was a hoot. Yes, this is a fun job!
The best news of all is that you Aramcons are already reserving your rooms at the Hyatt. When we asked you to book early, arrive early, and stay late, you responded like ExPats ready for an adventure. Our guaranteed room blocks at the Hyatt are filling fast and we want you to get the discounted reunion rate. Please let us know if you have problems with your reservations. As long as rooms are available, we can help. Contact us at [email protected] for assistance.
On January 22nd, the Hyatt reported 238 names already registered to stay at the hotel. We'll soon be able to share the names of registered attendees, but not until you actually register for the Hafla. Registration at the Hyatt with our reunion rate isn't valid until you register as Hafla attendees. We know you're ready to do that - click here for the Austin Hafla 2018 Registration Packet.
Last fall, we enjoyed touring the Hyatt Regency Lost Pines Resort and Spa and we'd like to share some photos of what's in store for you. Enjoy!
Your Austin Hafla 2018 cohosts: Judy and Bill Walker, Vicki and David Jessich
Click buttons below to view: