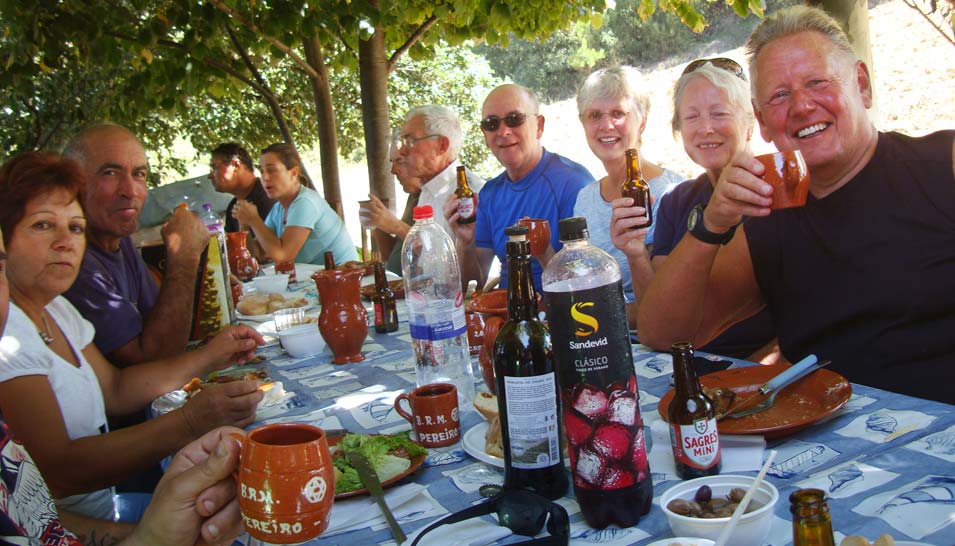 Cheers and Good Health
Were you to throw a dart at a map of the world hung on a wall from ten paces away and hit a continent and not an ocean, chances are you'd find an ex-Aramcon or two living somewhere close by wherever your dart landed. The geographic spread of our readership suggests that, with visitors from all around the world.
Hit a major country somewhere in Europe or Asia or the Americas and chances are you'll find more than a few annuitants living in the neighborhood. Take Portugal, for example. We recently discovered four annuitants and close friends who list their addresses in that sun-kissed land. Back in March of this year, we featured two of them, Arvid and Jakki Koris, in a feature story called "Paradise in Portugal." In that piece, Jakki shared excerpts from a story on Portugal that had appeared in the 13 February 2016 issue of The Independent.
Arvid and Jakki return to our pages in this issue along with fellow Aramco annuitants Mike and Sue Higgins who moved to Portugal after Mike's retirement from the company.
Early this month the four of them got together to pick grapes at a vineyard in a major wine-growing region in Portugal north of Lisbon and not far inland from the Atlantic Ocean. Arvid describes what their weekend in paradise was like:
Quite simply it is a "Cooperative" Vineyard in the village of Fonte Lima. It is operated by volunteers under the wonderful supervision of Henrique Fonseca and his wife Eulalia. Many of the local residents and families get involved in the operation.
Mike and Sue Higgins (ex-Udhailiyah), who recently relocated here to Portugal as our dear friends and close neighbors, participated in the grape picking this year for the first time. Although tired and exhausted at the end of the day, they thoroughly enjoyed the experience.
The wines created from the grapes we picked—all Vino Tinto (Red)—are intended for personal use amongst neighbors of the cooperative. Nobody gets paid any salary for their work picking grapes or making wines from them. Their reward instead is getting to taste and take home the final product!
Traditionally, at the completion of the harvest, there is a festive lunch, prepared by volunteers and family members and cooked out in the open in a traditional wood oven using old vine branches and wood as fuel.
The menu that weekend included oven-roasted local chicken, pork and beef ribs, pork loins, roasted potatoes, and copious amounts of salad products all sourced from village gardens.
Aramco annuitants know how to celebrate life to the fullest, no matter where they live on this earth. Arvid, Jakki, Mike, and Sue are living proof of that.
Here's a link to a video provided by Arvid of his hometown in Portugal:
Here's a link to the article we published about Arvid and Jakki earlier this year:
Have you ever wondered where your fellow Aramco family members are hanging out these days? Now you have a way to find out, and to let them know what neck of the woods you call home today.