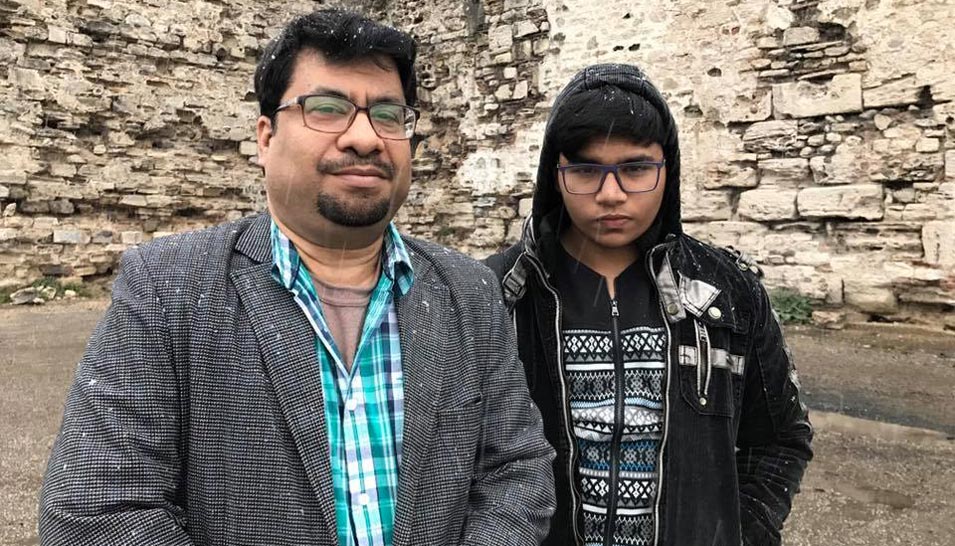 With my son at Istanbul - Turkey
When we informed Syed Azam Sher we were going to feature him in one of our profiles, he reacted with strong emotion, amazed that he would be remembered and recognized for his years spent in the Kingdom. Dr. Sher's profile differs from our typical profile in that he lived outside the camps in Arabia, not in any one of them, while his father worked for Aramco. Thus, he tells his story from a different perspective, one we think our readers will find interesting.
On that count, we'd like to remind all of our readers that we welcome the chance to share your stories and to highlight your accomplishments and those of your family, be they your parents or your children. We consider all of you—all of us—to be members of one big, inclusive, caring global family.
Dr. Sher recently shared with Aramco ExPats his memories of life in the Kingdom dating back 40 years to the first time he landed at Dhahran International Airport. He also shared with us details of his early years in Pakistan leading up to his time in Arabia.
Sayed Asif Sher
My father, Syed Asif Sher, recieving 5-Years Service Award (1980)
"I was born in the vibrant and cultured city of Karachi, Pakistan," he writes. "I did my earliest schooling at Greenwood Primary School in Karachi. My father joined Aramco in 1975 and after one-and-a-half years I also arrived in the KSA with my mother and sister. I completed my schooling at the Saudi Arabia International School in Al-Khobar. I was admitted to college but due to the terms of my father's contract, we returned to Karachi."
"There I attended higher secondary school at S M Science College in Karachi and after successfully completing my degree, was admitted to Dow University of Health Sciences (formerly Dow Medical College). It was a highly-recognized institute for medical education both domestically and globally. I entered Baqai Medical University in March 1996 where I completed my Master's degree in Environmental Sciences. At the same time, I worked as a medical doctor and also taught Occupational and Environmental Health to graduate students pursuing Master's degrees in Public Health.
At home - Buraida City, Saudi Arabia
Royal College of Physicians - Ireland
"Since September 2006 I have been working as Coordinator for Public Health under the Ministry of Health in various capacities, including twice at the Al Qassim Health Directorate. Since July 2010 I have served at the Maternity and Children's Hospital in Buraida where I am a coordinator for infectious disease eradication. My duties include fighting the MERS Corona virus via electronic surveillance."
AXP : Tell us about your family life in Arabia.
Dr. Sher : My father, Syed Asif Sher, was a computer programmer in the computer operation division in Dhahran. He worked in all three buildings from 1975 through 1985. For a year-and-a-half, he worked at the old Munirah camp. I visited that camp several times with my father who used to meet his old friends, and also for final exit parties. It was also a good place for hassle-free cycling. When my father's contract ended in November 1985, his name was put on the surplus list. He was short-listed for KFUPM, but a phone call changed everything and we all returned to the Kingdom in January 1986.
AXP : What compounds did you live in?
Dr. Sher : We never lived in any compound. However, many times we visited the Dhahran housing area as one of our close relatives was living there. I remember the environment was healthy and robust. Dhahran stays with us in our hearts.
I also visited Abqaiq and Ras Tanura many times. In Dhahran, I remember some Expat women with names like Olivia (from Dallas), Charllote (from South Dakota), and Mya (from Florida). Olivia was such a humble girl. I remember her home city because in those days there was a very famous television program, "DALLAS". Charlotte's mother was a doctor. Mya had one brother, Peter. Peter had a black bicycle that came from Canada.
We were living in the Thuqbah district at that time. I was living with my mother, Rashida Sher, and sister, Farkhanda Sher, along with my father whose name I have already mentioned.
AXP : What was it like for you living in Saudi Arabia?
Dr. Sher : Living in Saudi Arabia had a different special aspect for us, with me and my family being Muslim. The Kingdom has the Two Holy Cities of Makkah and Madinah. But Dhahran and Al-Khobar were vibrant and flourishing even in the '70s. Compared to other Saudi cities, Dhahran and Al-Khobar were alive. Who can forget the Safeway market, the Al-Shula market, and the Al-Khobar corniche? Azizia Beach, Sunset Beach, and Half Moon Beach were superb! For us, the capital city Riyadh was like a little big town. The Dhahran Shopping Centre was also a point of attraction for us. I think I need a few weeks to remember everything! Oh, yes! I will never forget the Dhahran Commissary where my favorite candy was Cracker Jacks. The only fast food chain I can remember was Hardees—oh, so yummy! As for the company itself, I will just say that Aramco was Aramco.
AXP : What memories of the Kingdom would you like to share with our readers?
Dr. Sher : The memories I would like to mention would take weeks or months to describe. Dhahran, Al-Khobar, and Thuqbah were just like home ground for us. Whenever I visit these cities, my feelings are entirely different. I do not understand how but somehow it happened. Fervent, passionate feelings overwhelm me whenever I visit the Eastern Province. I cannot adequately express the depths of my emotions even now when I am writing this. It is not only that I love Dhahran; Dhahran also loves me!