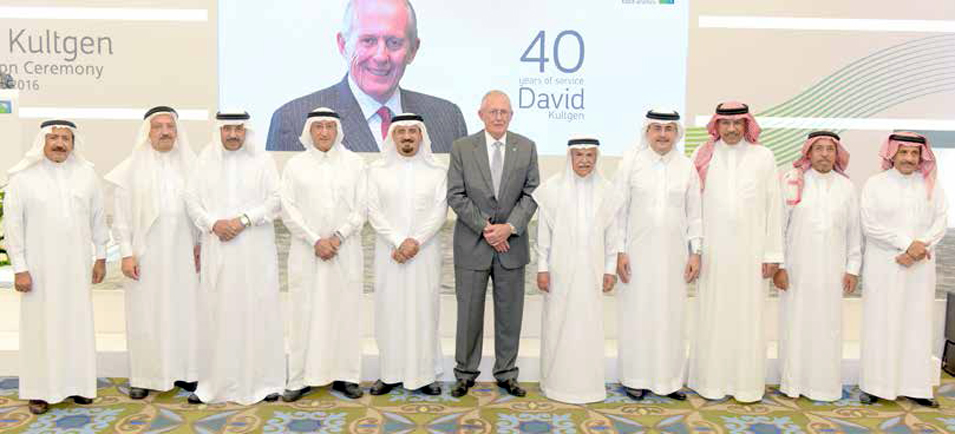 David B. Kultgen, center, poses with current and former high-ranking officials, including to his immediate left HE Ali I. Al-Naimi, Amin Nasser, and Abdallah S. Jum'ah. Kultgen began his career with Aramco in 1973, and over the ensuing four decades, helped oversee several landmark events in the company's history. (Photo: Moayed Al Qattan/MPD)
In 1973, David B. Kultgen was hired by the Arabian American Oil Company to work in the old Aramco's New York office, not knowing he would have the distinction of being one of the last two expatriates employed by Aramco directly out of law school and that he would eventually go on to become the company's general counsel and secretary to the Board of Directors.
At Kultgen's recognition and farewell dinner at Al-Ghawar Hall in Dhahran earlier this month, the idiom "a picture is worth a thousand words" rang true as that illustrious career was remembered.
Monochrome images from a slide-show were on full display at the event, depicting a young, suited man at the center of a transforming company and country. The images blended into a series of color photos, Kultgen pictured with a long line of Aramco's cherished figures including four CEOs (Frank Jungers, John Kelberer, HE Ali I. Al-Naimi, and Abdallah S. Jum'ah), two former Ministers of Petroleum and Mineral Resources (HE Hisham M. Nazer and Al-Naimi), and the current Minister of Energy, Industry and Mineral Resources, HE Khalid A. Al-Falih.
Amin Nasser, Saudi Aramco's president and CEO, addressed Kultgen, his family, current and retired members of corporate, executive and general management, along with other distinguished guests, in a heartfelt manner and in a tone reflecting the company and Kingdom saying goodbye to a dear friend and dedicated colleague.
"As David often points out," Nasser told guests, "those were interesting times." "Perhaps, most 'interesting' were the negotiations that were underway for the Saudi government's acquisition of Aramco, leading David to wonder if he'd made a mistake, joining in the midst of a corporate takeover.
"But in more than 40 years of service in Dhahran and Houston — rising to become only the second general counsel in company history (and only the fifth in the combined history of Aramco and Saudi Aramco), secretary of the Board of Directors and ultimately, senior vice president — David was not just a witness to change; he was at the forefront."
Nasser pointed out that Kultgen was the lawyer for the team that negotiated the company's first joint venture, worked on the drafting of the articles of incorporation of the new company, Saudi Aramco (created by Royal Decree in 1988), and witnessed the company grow from the "onedimensional exploration and production enterprise" that was the Arabian American Oil Company (Aramco) to the global, integrated energy and chemicals company that Saudi Aramco has become today.
"Simply put," said Nasser, "David Kultgen is one of the best legal minds in company history. We have all seen his talent in our acquisition of shares in S-Oil, for example.
"And also in the Star Enterprise project, which led to Motiva, the largest refining and marketing JV in company history. Some say it was his handling of the project, as lead lawyer, that quickly set David apart." Another of the many high points of Kultgen's career was his support for the Ministry of Petroleum and Mineral Resources during the Kingdom's entry into the World Trade Organization.
An ATP Champion
Kultgen's imprint is also deep in Saudi Aramco's Accelerated Transformation Program (ATP).
"David could foresee how the ATP — which set us on our 21st century path with bold strategic intents and major new businesses — would impact our legal risk profile," Nasser said.
"He recognized that as the company's downstream and chemicals footprint expands globally — and now, as we take on the tremendous challenge of going public and supporting Vision 2030's economic and social goals — the legal function would be central to our success.
"The complexity of our activities at home and abroad would place his organization at the center of things, requiring deep knowledge, including the laws and regulations of other countries."
Such an active global business environment saw the need for the expansion of the Saudi Aramco Law Department's capabilities. Kultgen conceived Project 2020, a "new direction for the Law Department."
With the upcoming Initial Public Offering (IPO) in mind, Kultgen designed a new Law Model that has seen the tripling of the size of Law Department over the past six years.
The restructuring is being enabled in significant part by an expanded Law Studies Program for young Saudi professionals within the company, which is graduating the most qualified U.S. trained and licensed Saudi lawyers in the region — and for the first time, the recruitment of top graduates from legal studies programs at Saudi universities — to safeguard Saudi Aramco's interests.
"A significant part of that new direction was preparing Nabeel Mansour to succeed David as our first Saudi general counsel," Nasser said.
Nasser paid tribute to Kultgen's contributions to Saudi Arabia's legal profession and his broader international influence.
"It is no exaggeration to say that David is admired internationally. The General Counsel 50 is a perfect example. This organization is a global forum for chief legal executives in a range of fields to share knowledge and information — and not just any general counsels, the best worldwide.
"The G50 organization has said that members look to David for leadership, inspired by his experience."
HE Ali I. Al-Naimi, Nasser recalled, "took a personal interest in his career … knowing David's skills would be best used in Dhahran at the center of things."
Community Leaders
Nasser paid tribute to the Kultgen family's role in Dhahran, noting that his wife, Candy, was a well-known contributor to the community. The Kultgens raised three children in Dhahran — Megan, Michelle and Bryan — all of whom have followed their father's choice of profession.
"What he has achieved is not just a career. It is a legacy," Nasser concluded.
"You take with you our heartfelt gratitude and our best wishes for a very happy, healthy, and fulfilling retirement. You will be missed. God bless."
In his response, Kultgen said he could not have achieved what he did at Saudi Aramco without the support of his family, and he also paid tribute to the company's leadership and his many colleagues, Saudi and expatriate alike — over the years.
He and his wife will retire to Austin, Texas, as well as spend time in New York City where two of their three children are practicing lawyers, following their incredible journey with the company in Saudi Arabia. They also intend to return regularly to Dhahran to visit their daughter Michelle, son-in-law Christopher Mason (Finance), and grandchildren Emily, 4, and Andrew, 2.