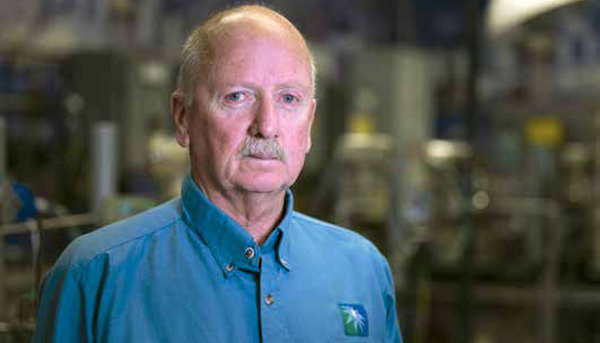 Daniel A. Mc Areavey, who is stepping down from the company after 37 years, says the most rewarding part of his career was constructing and operating the newly established Multidiscipline Training Hub in the Ras Tanura Refinery, as well as overseeing the training and development of the company's young Saudi workforce.
Ras Tanura — Daniel A. Mc Areavey of the Ras Tanura Shared Services Department has retired after 37 years of service with Saudi Aramco.
Mc Areavey started his career in 1977 as an electrical foreman in Ireland for five years before traveling to the Kingdom in 1979 to work with a Saudi company for a year.
In 1981, he joined Saudi Aramco as a senior electrical technician with the Ras Tanura Maintenance Department (RMD).
In 2008, he became a supervising craftsman for electrical, instrumentation, and mechanical technicians. In July of 2014, he assumed the role of technical adviser for mechanical services within the same department.
In January of 2018, he moved to the Human Resources Development Division (HRDD) to become a supervisor trainer.
Pride in Proficiency, Helping Train Young Employees
During his time with HRDD, Mc Areavey had the opportunity to share his extensive experience with the younger generation as a mentor and trainer. He is particularly proud that he developed detailed electrical maintenance manuals for electrical technicians, not only to gain a practical understanding but also to become proficient in best practices, international, and Saudi Aramco standards.
"The most rewarding part of my career was being part of the team that designed, constructed, and operated the newly established Multidiscipline Training Hub in the Ras Tanura Refinery, and to oversee the training and development of our young Saudi workforce," Mc Areavey said.
Additionally, he said that he has enjoyed Saudi Arab culture and the hospitality of the Saudi people.
More Time with The Family
Upon retirement, Mc Areavey and his wife, Claire, look forward to spending more time with their children and grandchildren, who are in three different countries — Danielle resides in London, Aodhan lives in Bahrain, and Saoirse is completing her marketing degree in Waterford, Ireland.
During his time in Ras Tanura, Mc Areavey enjoyed exercising, and he plans to continue maintaining a healthy lifestyle to keep pace with his grandchildren, Aoife and Rafferty.
The Mc Areaveys will be returning to Hillview, Waterford, Ireland. Those wishing to contact the Mc Areaveys can reach them via their personal email: [email protected].