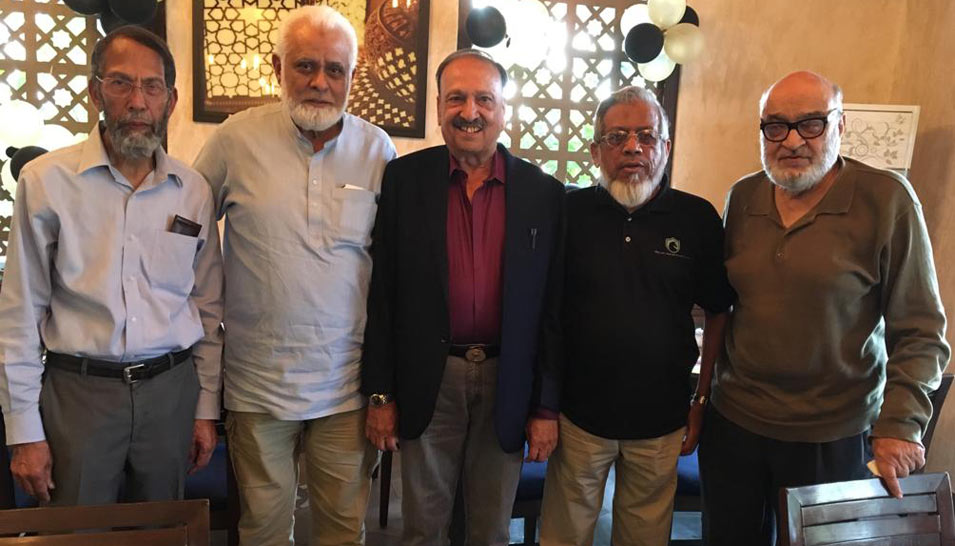 Engr. Tariq Said Bukhari, Engr. Syed Shareef Naqvi, Engr. Omar Vowda, Engr. Iqbal Ahmed Khan, Engr. Syed Abul Hassan Jafri
Engr. Syed Shareef Naqvi NED69ers Electrical who retired four years back and presently settled in Chicago, Illinois, USA. He was in town for last three weeks and was very busy with his family attending parties, family weddings and meeting all his relatives. We managed to get few free hours of Shareef and arranged a lunch party at Paramount Lebanese Foods Restaurant in Defense Housing Authority (DHA) and invited few available NED69ers in the town. As normally we all gather at Engr. Omar Vowda's place but Abul Hassan Jafri suggested having a change so we arranged the meeting at Paramount.
As Tuesday was a working day and all the available friends could not managed to come but who attended were as follows:
Engr. Syed Shareef Naqvi-Electrical-Chief Guest
Engr. Omar Vowda-Mechanical
Engr. Syed Abul Hassan Jafri-Electrical
Engr. Tariq Said Bukhari-Electrical
Engr. Iqbal Ahmed Khan-Mechanical
The friends who could not attend due to prior commitments/short notice were as follows:
Engr. Sharif Ur Rehman Malik-Electrical
Engr. Muhammad Hamid-Mechanical
Engr. Rahmatullah Ganaai-Electrical
Engr. Mohammed Habib-Mechanical
Engr. Mohammed Akber Ismail-Civil
It was a great meeting and we all met each other after a long time. We enjoyed remembering the sweet old memories of NED College and we did discuss and prayed for our friends who are no more with us. We all remember the Irani Café which was right in front of the college. The thing which we all remember was the special Irani Tea and the Pâtés.
The Group of NED69ers @Paramount Lebanese Food Restaurant in DHA Karachi
As NED69ers are going to celebrate the 50th Year of their Graduation (Golden Jubilee) and that is tentatively going to be in Karachi. We discussed the major points and very soon a committee will be formed and the program will be scheduled and all the friends will be notified. Engr. Syed Shareef Naqvi added his name in the 2019 Reunion list to be held in Karachi. Presently the members who are there to work on the program are as follows:
Engr. Omar Vowda
Engr. Col ® Shahid Qureshi
Engr. Maj. Gen ® Khalid Mushtaq
Engr. Col ® Syed Zafaruddin Ahmed
Engr. Iqbal Ahmed Khan
The Lebanese Food was delicious and we all enjoyed the cuisine and the items we all liked were as follows:
Hummus Beef
Hummus Chicken
Mixed Combo Platter
Zaatar Bread
Garden Salad
Baklawa
Green Tea
Moroccan Tea
Finally it's time to depart with the pledge to meet with all the friends in Karachi and abroad in Karachi to celebrate the Golden Jubilee Function in Karachi.