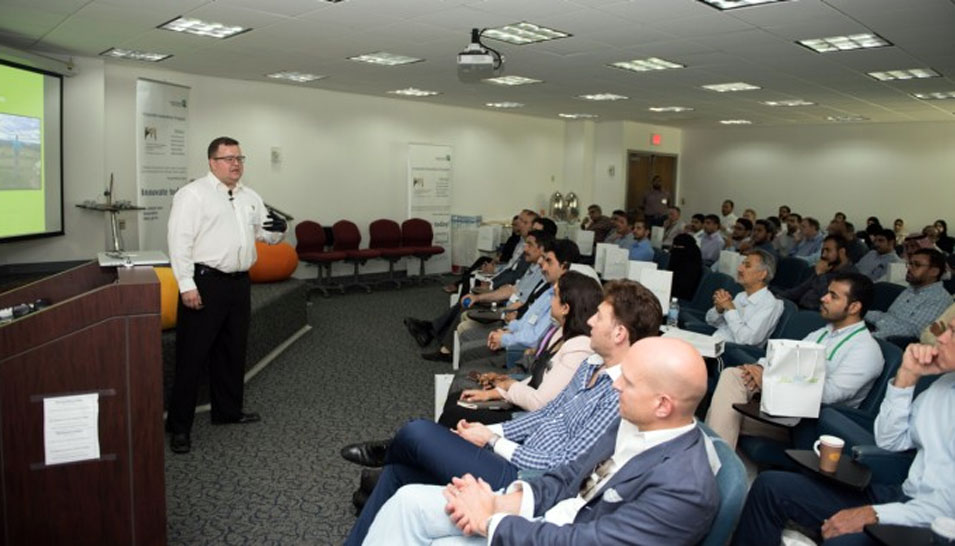 Brent Baier wears the 'peregrine glove', a system that allows its wearer to create graphics, letters and numbers with the touch of a hand.
How many times have you had a great idea but never quite managed to put it into action? Or worse still, had a great idea but saw the vision turned into a reality by someone else?
These thought-provoking questions were recently addressed in three sessions held across Saudi Aramco facilities, which were collaboratively organized by the Leadership Development Division (LDD), Management & Professional Development Department (M&PDD), Ibtikar Innovation Board and the IT Future Center.
The sessions featured an inspiring keynote presentation from visiting Canadian inventor, Brent Baier, CTO and founder of Iron Will Innovations Inc. Baier shared the story of how he turned his peregrine glove system into reality. His story is one of empowerment, risk taking, collaboration and determination.
Baier's story hit the hearts of many inventors in the audience as he shared lessons learned through the journey of innovation and entrepreneurship. His perseverance and determination led to his product being sold in over 50 countries, showcased in the blockbuster movie "Pacific Rim," and furthermore becoming the preferred reference by NASA in the wearable technology industry.
The keynote was followed by an insightful panel discussion with contributions from Saudi Aramco's and Saudi Arabia's innovation stakeholders. These key stakeholders included: Ali Al Qahtani, Ibtikar board secretary; Steven Morgan, Intellectual Property (IP) counsel from Law; Adnan Al Asaly, Technology Oversight and Coordination (TOC) Group; Trey Goede, Venture Capital Group of Wa'ed (the Saudi Aramco Entrepreneurship Center); and a well-known Saudi entrepreneur Fatima Batook, CEO, TIMA® Company Ltd. 
Saudi Vision 2030
The first panel question set the scene to further explore innovation at Saudi Aramco and Saudi Arabia, being positioned around Saudi Vision 2030. The panel highlighted why innovation is more critical than ever, now that Saudi Arabia is on a new trajectory of growth and development.
Saudi Vision 2030 was highlighted as a roadmap that will see the Kingdom transformed from a state dependent on oil, to a much more productive, and proactive country for economic growth and development. The panel discussed how this will set a path to raise the level of productivity to accomplish structural, economic and social changes within the Kingdom.
Innovation Success
Panelists also agreed that innovation is an essential investment for every company. This was highlighted by a quote from Al Qahtani, who said, "The key common denominator of the most successful companies worldwide is a focus on innovation, their ability to reinvent themselves, adapt to a changing business environment, customer demands and competition. With this in mind, Saudi Aramco is adopting industry best practices to establish and improve an innovation program that will be an integral part of our culture and to empower employees to innovate."
Panalists Morgan and Al Asaly shared a Saudi Aramco story of innovation success, which clearly demonstrated how great ideas are energized and turned into reality. This success story involved one of the panelists, Batook. They explained how they had successfully licensed five patents from the Saudi Aramco IP portfolio to Batook's company, and how she is taking these patents to the market. Batook is now building a smart e-shirt for the Kingdom.
Al Asaly said, "Moving this technology forward to the market is only the beginning toward a full-fledged intelligent sensing solution. The inventor and team have clearly demonstrated their innovative capabilities in executing an idea that can create an impact. TOC is pleased to commercialize this technology as a way to diversify its portfolio and to contribute to local content."
Furthermore, Morgan highlighted the success of this licensing and commercialization by stating "Jack Welch said 'leaders create a vision, articulate the vision, passionately own the vision and relentlessly drive it to completion.' That is what this Saudi Aramco inventor did in developing a technology, which is now licensed to TIMA® Company Ltd. to implement that technology into a useful commercial product."
Investing in Local Talent
Additionally, Goede explained how the Venture Capital Group has investment funds available for local entrepreneurs to establish new companies or to grow existing small- and medium-sized enterprises in the Kingdom. Goede said, "The Venture Capital Group is always looking for innovative investment opportunities in Saudi Arabia. We have already made 14 investment commitments to Saudi entrepreneurs over the past three years. This specific case is extremely exciting for us, because the IP creator is a Saudi Aramco employee, and the company that secured a licensing agreement from Saudi Aramco is a very impressive company called TIMA® Company Ltd., founded by an extremely talented Saudi entrepreneur, Fatima Batook."
In closing, it was Batook who shared her insights from the session, saying "Today proves that Saudi Aramco is more than an oil company, as it also looks toward the future of our country in innovation and creativity, which fits perfectly with Saudi Vision 2030! It's our honor and immense excitement to have signed with Saudi Aramco to use intellectual properties developed by a Saudi Aramco inventor, to create and develop a new venture for TIMA® Company Ltd. with wearable technology."