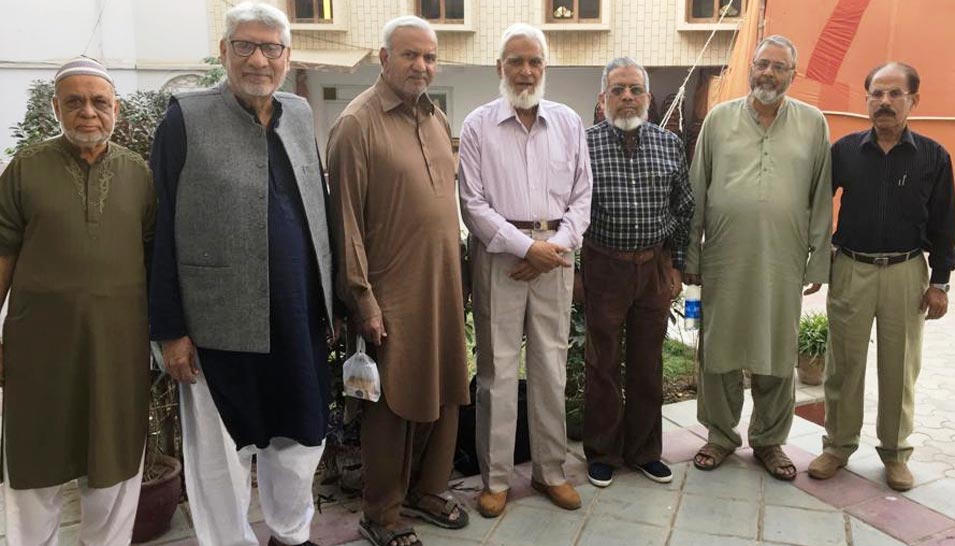 Mohammad Abdul Matin, Muhammad Salim Hamid, Ghulam Qutubuddin Khan, Kamal Ahmed Farooqi, Engr. Iqbal Ahmed Khan, Arif Qamar, Shafiq Ahmed Khan
The monthly progress meeting of Saudi Aramco Ex-Employees Association (SAEEA) was held on December 29, 2018, at Kamal A. Farooqi's office.
The attendees were as follows:
Kamal Ahmed Farooqi (KAF)
Engr.Iqbal Ahmed Khan (IAK)
Ghulam Qutubuddin Khan (GQK)
Shafiq A.Khan (SAK)
Mohammad Abdul Matin (MAM)
Muhammad Salim Hamid (MSH)
Arif Qamar (AQ)
The highlights of the meeting were as follows:
KAF thanked all attendees and updated about SAEEA activities during December, 2018.
SAEEA General Secretary, Ghulam Qutubuddin Khan and Finance Secretary Muhammad Salim Hamid back to Karachi. They will now attend the forthcoming 20th Reunion.
Arena Club for 20th reunion has been reserved for January 05, 2019 and initial payment made to the Club. The remaining payment will be made after getting final confirmation from the attendees on January 01, 2019.
SAEEA has completed its eight years on 10th of October, 2018. We will celebrate the occasion on January 05, 2018.
KAF requested MAM to buy ten gifts to be distributed during 20th reunion. The distribution will be thru LUCKY DRAW COUPONS. Three gifts each for male and female and four gifts will be for children.
At the request of Kamal A.Farooqi, Shabbar H.Abidi has established a new group "HALQAE SHERO ADAB". The first meeting/gathering of the group held on December 01, 2018. A detailed report on the occasion will be published soon. In the meantime, if any of SAEEA Member/Non Member is interested in joining the group, please contact Shabbar H.Abidi. KAF to elaborate the group during the forthcoming reunion.
IAK updated about SAEEA web.
MSH presented SAEEA updated account.
MSH and MAM to visit two Auditors (KAF identified the names) for approval of SAEEA last year (2017 - 2018) account.
KAF prayed for all sick people.
If you have any questions then please call Engr.Iqbal Ahmed Khan on +92-321-701-4929 or write to him on iqbalkhan.2010@live.com