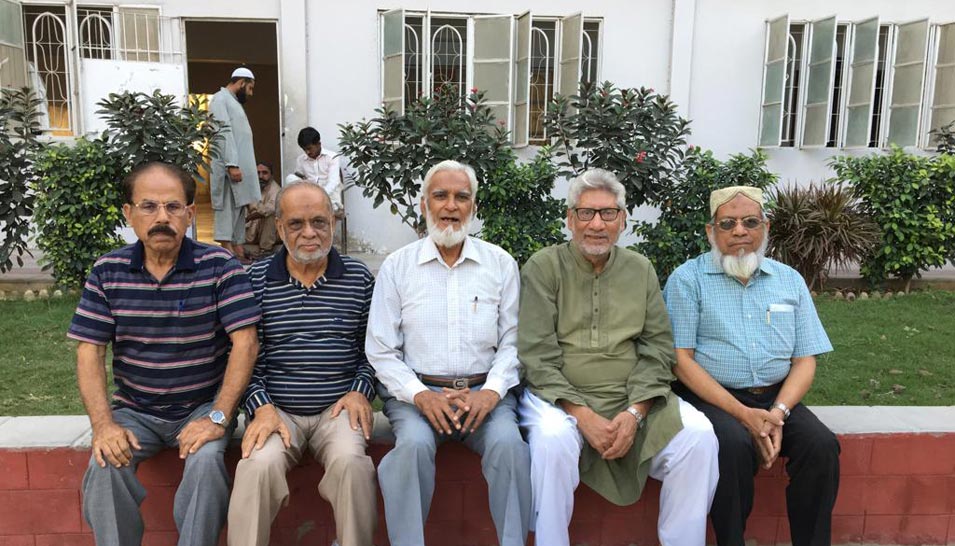 Left to Right-Shafiq A. Khan-Mohammad Abdul Matin-Kamal Ahmed Farooqi-Muhammad Salim Hamid-Engr. Iqbal Ahmed Khan
The monthly progress meeting of Saudi Aramco Ex-Employees Association (SAEEA) was held on December 08, 2018 at Kamal Farooqi's office.
The attendees were as follows:
Kamal Ahmed Farooqi (KAF)
Engr. Iqbal Ahmed Khan (IAK)
Shafiq A. Khan (SAK)
Mohammad Abdul Matin (MAM)
Muhammad Salim Hamid (MSH)
The highlights of the meeting were as follows:
KAF thanked all attendees and updated about SAEEA activities during November, 2018.
SAEEA General Secretary, Ghulam Qutubuddin Khan is still out of Country and will return back soon to enable him to attend SAEEA 20th reunion.
It is decided to have the next SAEEA Reunion on January 05, 2018 at Arena Club, main Karsaz Road. Detailed information will be announced soon.
SAEEA has completed its eight years on 10th of October, 2018. We will celebrate the occasion on January 05, 2018.
At the request of Kamal A. Farooqi, Shabbar Abidi has established a new group "HALQAE SHERO ADAB". The first meeting/gathering of the group held on December 01, 2018. A detailed report on the occasion will be published soon. In the meantime, if any of SAEEA Member/Non Member is interested in joining the group, please contact Shabbar Abidi.
IAK updated about SAEEA web.
MSH presented SAEEA updated account.
MSH to visit two Auditors (KAF identified the names) for approval of SAEEA last year account.
KAF prayed for all sick people.
If you have any questions then please call Engr. Iqbal Ahmed Khan on +92-321-701-4929 or write to him on iqbalkhan.2010@live.com.