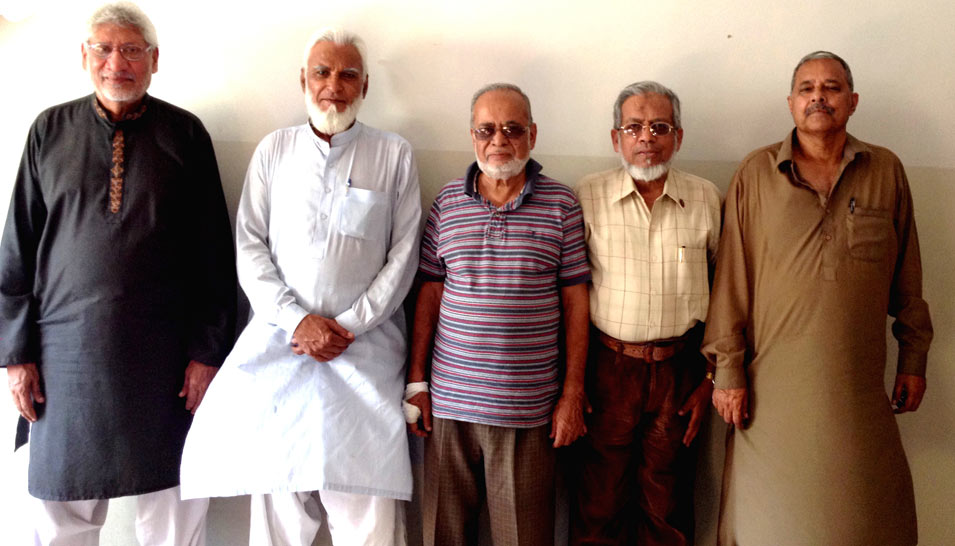 Muhammad Salim Hamid, Kamal Ahmed Farooqi, Mohammad Abdul Matin, Engr. Iqbal Ahmed Khan, Arif Qamar
The meeting of Saudi Aramco Ex-Employees Association (SAEEA) held on Sept 16, 2017 at Kamal Farooqi's office.
The attendees were as follows:
Kamal A. Farooqui (KAF)
Engineer Iqbal A. Khan (IAK)
Mohammad Abdul Matin (MAM)
Muhammad Salim Hamid (MSH)
Arif Qamar (AQ)
The meeting started with recitation of Holy Quran by the President, Kamal A. Farooqui.
KAF updated all attendees about SAEEA activities during August, 2017.
KAF thanked all attendees. Ghulam Qutubuddin Khan is not feeling well and could not attend the meeting. Shafiq Ahmed Khan's wife has been ill for some time. So, Shafiq also could not attend.
Little before the meeting, received words that SAEEA very active member Mohammad Javed Iqbal, former Employee of Dhahran Industrial Security Department passed away. Matin condoled by calling Javed's Daughter. Further, KAF and other attendees prayed for Javed during the meeting.
All Attendees mutually agreed to have the SAEEA 18th Reunion in the last week of December 2017.  AQ will search for a place for the event.
MSH presented SAEEA updated accounts.
KAF requested to keep the account ready for audit purposes.
IAK has been facing problems in maintaining SAEEA website.  He discussed, in detail, and will try to resolve the problems. IAK requested all SAEEA Members to survey SAEEA website at least twice a week and provide their feedback to IAK.
KAF prayed for all sick Friends and their Families.
If you have any questions then please call Engr. Iqbal Ahmed Khan on +92-321-701-4929 or write to him on iqbalkhan.2010@live.com.