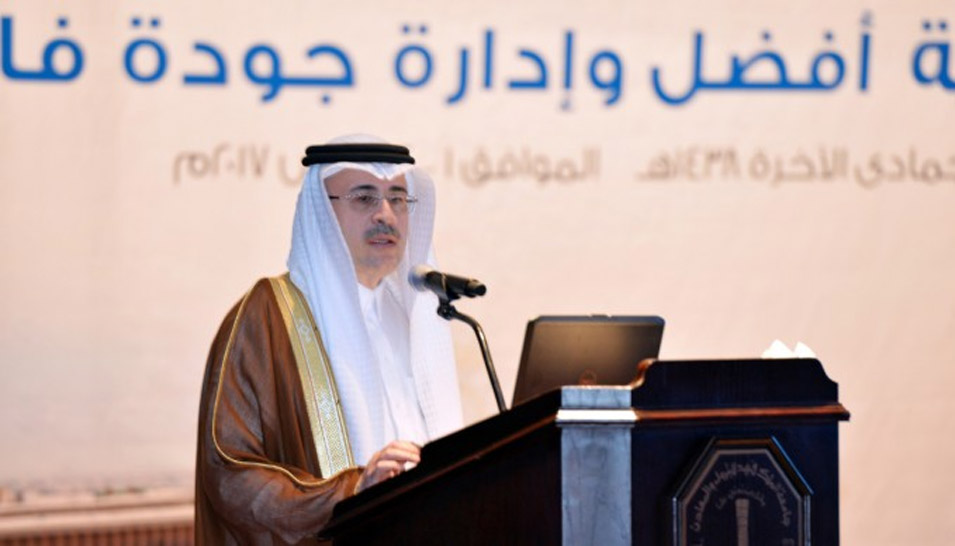 Saudi Aramco President and CEO Amin H. Nasser addressing the Construction Industry Institute's first annual conference at King Fahd University of Petroleum and Minerals (KFUPM) in Dhahran (Saudi Arabia) on March 1, 2017.
Saudi Aramco participated today in the Construction Industry Institute's first annual conference which was organized by the King Fahd University of Petroleum and Minerals (KFUPM) at its Dhahran campus.
Addressing conference delegates, Saudi Aramco President and CEO, Amin H. Nasser, said the construction industry plays a critical role in the Kingdom's national transformation. He said: "The Kingdom's development programs over the last 40 years would not have been achieved had it not been for the important role of the construction industry. As we look forward to the realization of Vision 2030, with its ambitious aspirations and massive investments, it has become more imperative than ever for the construction industry to swiftly advance in order to fulfill the hopes we pin on it."
Saudi Aramco took part in the two-day conference held under the title "Towards Better Productivity and Effective Quality Control" where it shared the Company's vision, innovative ideas and experience in construction and highlighted the favorable impact of this industry on the Kingdom's development.
Highlighting Saudi Aramco's experience in construction and project management, Nasser said the company developed processes and systems to monitor projects more effectively and intervene only when needed to proactively address emerging issues. He pointed out three priorities that need to be addressed by the construction industry, namely, efficiency and productivity, project cost and schedule overruns, and quality. Nasser also emphasized issues related to in-Kingdom construction industry, the challenge of localization and maximization of the local content of this industry, not only in terms of 'Saudization', but also materials manufacturing.
CEO Amin H. Nasser: We need to work together with the construction industry to maximize local content and overcome the challenges of quality, cost, and stalled projects.
Saudi Aramco participates, along with several international oil and gas companies, in "Project Complexity," a program launched under the umbrella of the World Economic Forum which focuses on the standardization of engineering specifications of oil and gas companies with the aim of improving efficiency and cost reduction in projects.
The Construction Industry Institute provides stakeholders of the construction industry, including project owners, contractors, consultants, suppliers, and academics, with a platform to share views on best practices to increase productivity and enhance on-site quality control of construction projects.