Douglas Lee Hamilton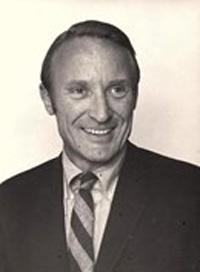 Douglas Lee Hamilton, D.D.S. of San Rafael, died peacefully on December 3, 2017, surrounded by his family, at the age of 89. Doug was born on May 22,1928 in San Francisco, the eldest of two sons born to Lloyd and Dorothy Hamilton. Doug was a graduate of San Mateo High School (1946), the University of California at Berkeley (1951) and University of the Pacific School of Dentistry (1958). He was an active and lifelong member of the Sigma Nu Fraternity and the American Dental Association. He served in the U.S. Air Force from 1951-1954.
Doug was first married to Natalie Brown of Alameda, CA; they initially resided in San Francisco and moved to Napa, CA in 1954, where they raised four children. Doug had a successful career in pediatric dentistry and was a member of many civic organizations. After a divorce and a return to the bay area, Doug married Marie Bouillon in 1975 and they resided in Sausalito, CA. He worked at the University of Pacific Dental School as an Assistant Professor and Director of Continuing Education. He and Marie moved to Dhahran, Saudi Arabia, from 1977-1988, where Doug worked as a dentist for ARAMCO, and they were able to travel extensively throughout the world. They returned to Sausalito in 1988, where they lived until Marie's death in 2014. Doug spent the last two years of his life in San Rafael, Ca.
Doug touched many people throughout his life at home and abroad. He loved jazz, played the piano, gazing out at the boats on the bay, playing golf, gathering regularly with his Sigma Nu group, volunteering as a docent at the Marine Mammal Center and volunteering at the Academy of Sciences in San Francisco. He was a great lover of nature and shared this love with his children and grandchildren in Yosemite and the Sierra Buttes.
Doug is preceded in death by Natalie Hamilton and Marie Hamilton, his eldest son Bruce Hamilton, and his stepson Victor Bouillon. He is survived by his brother Bill, children Betsy, Greg and Anne, his step-daughter Diana Krupka, grandchildren Peter Hamilton, Joaquin and Anna Eliza Pastor, Liliana and Camille Schmitt, Ian Hamilton and one great-grandchild, Owen Hamilton.
Doug's family will have a private celebration of his life and will honor his wishes to have his ashes scattered at sea.