Dr. R. L. Sam Carstens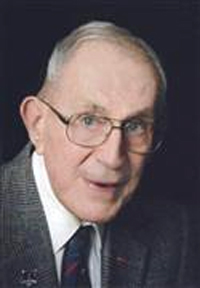 Dr. R. L. (Sam) Carstens died Monday, August 1, 2016 at age 94. He was the son of Ava E. Kulow and Fred A. Carstens. He graduated from Iowa State College in 1943 with a degree in Civil Engineering. Serving with the U.S. Army in World War II, his engineer battalion built 40 tactical bridges in France and Germany. He was awarded 5 campaign stars for this service.
After almost 5 years of working in Iowa in the construction industry, he was recalled to active military service in 1950 and served in Korea. There, he was awarded the Bronze Star Medal for exemplary service and 4 campaign stars.
Following his military service, he worked in Saudi Arabia as an engineer for the Arabian-American Oil Company, 1954 to 1961, and as an engineer for USAID in Bolivia, 1962 and 1963. He received graduate degrees from ISU in Transportation Engineering in 1964. In 1965, Dr. Carstens was appointed Professor in Charge of the Transportation Engineering section of his department and served with distinction as a teacher and researcher until he retired at the end of 1986. He was especially active in outreach activities, presenting many short courses, workshops, seminars, and papers to widely varying audiences during his tenure at ISU.
From 1975 until 1991, Dr. Carstens also served as a consultant in transportation engineering. Many of his projects were in connection with litigation. He appeared as an expert witness in 97 trials. Of these, 19 were on behalf of the Iowa Department of Transportation, and 30 were in defense of other public entities.
Among the many honors and awards to Dr. Carstens was the Faculty Citation for "long outstanding and inspired service on the faculty of Iowa State University", the Out-Standing Educator Award from the American Road and Transportation Builders Association for a "remarkable contribution to transportation education", the Special Service Award from the Iowa County Engineers Association for "many contributions to the engineering profession", the Distinguished Service Award from the Iowa Engineering Society for "outstanding service to the engineering profession", and the President's Award from the Iowa Traffic Control and Safety Association for "exemplary contributions to highway safety". He also received the Award of Merit from Acacia Fraternity for "significant contributions in time and effort in the advancement of the ideals and objectives of Acacia".
 He was a member of the First United Methodist Church in Ames, the Ames Noon Kiwanis Club, the Iowa State University Alumni Association, and the Cyclone Club. He was a dedicated follower of ISU athletics.
Dr. Carstens is survived by his son, Michael Carstens (Lisa) of Littleton, Colorado; by his step-sons, Lloyd DeMoss (Helen) of Sioux city and Ron Jordan (Kyla) of Surprise, Arizona and Cody, Wyoming; by step-daughters, Sheila Burdett of Pearland, Texas and Janis (Richard) Coss of Davis, California; and by step-daughter-in-law, Kim Jordan (Dean Miller) of Ames. He is also survived by his two granddaughters (Hannah, Cayla); 10 step-grandchildren; and 14 step great-grandchildren. He was preceded in death by his first wife, Marian; by his second wife, Lenita; by his parents; by his brother, John; and by his step-son, Craig Jordan.
A memorial service will be held in the First United Methodist Church of Ames on Friday, August 5, 2016. The family will gather at 1:00 and the service will begin at 2:00. All are welcome to remain after the service for a time of refreshments, and to celebrate and remember the extraordinary life of R. L. Carstens.
In lieu of flowers, a memorial contribution may be made to one of Sam's favorite charities: Camp Courageous of Iowa.