Eugene Beecher Perkins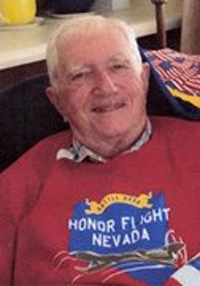 Gene Perkins, 91, passed away peacefully in his sleep on September 30, 2016. He was born September 11, 1925 in Boise, ID.
He leaves behind his wife, Gretchen Sullivan, who was with him. He also leaves two sisters: Martha Perkins of Riverside, and Nancy Griswold and family of Walnut Creek.
Gene served in Pattons 87th infantry during WW11, earning the Purple Heart, Bronze Star, and was part of the Battle of the Bulge.
Gene worked in Saudi Arabia as mapmaker for Aramco. He was an aeronautical engineering for 35 yrs at NASA. He retired to Reno in 2006, a place he loved and appreciated.
He'll be missed by extended family: Nancy Knowlton and family of Reno, Chris Sullivan, his wife, Heather and his teenage grandchild, Mackenzie Sullivan of Reno; Erin Sullivan & husband Tony Harbison of Diamond Bar; and Shon Sullivan and his wife Dorothy and toddler grandchild, Josephine of Los Angeles.
Burial was at Northern NV Veterans Memorial Cemetery, Fernley, NV. O'Brien-Rogers & Crosby Funeral Home, Reno was entrusted with arrangements.