Johanna T. Ullmann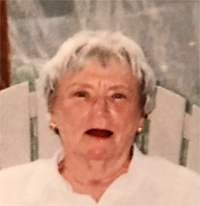 Johanna T. Ullmann, 91, of Manchester, NH died March 25, 2017 at the Catholic Medical Center surrounded by her loving family.
Born in New York City on November 8, 1925, she was the daughter of Sophie and William Knapp.
Family members include her husband of 60 years Richard A. Ullmann of Mancheste,r Aramco retiree badge 12446, who worked in Saudi from 1952 through 1976', The Hague, Holland 1976 through 1987). Her children included Richard Ullmann of Colorado Springs, CO, Elizabeth Ullmann of Brighton, MA, Jennifer McCarthy and Vincent of Brighton, MA and Rob Ullmann and Ann of Beverly, MA; her grandchildren, Patrick, Amanda, Lauren, William, Victoria and Hannah; her great-grandchildren, Anthony and Adalecia.
A funeral service was held on Wednesday, March 29, in the chapel at Lambert Funeral Home & Crematory, 1799 Elm Street, Manchester, NH. Burial followed in the NH Veterans Cemetery, Boscawen, NH.