Noah Bratcher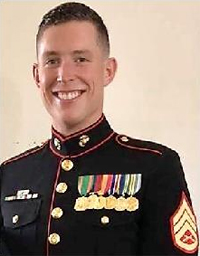 Bratcher, SSgt. Noah S., USMC Noah was born March 19, 1991; and passed unexpectedly on November 16th, 2018 in Oceanside, CA. He grew up with his older brother, Lukas in Dhahran, Saudi Arabia where their parents worked for Saudi ARAMCO Oil Company.
In the summer of 1999, Noah, his brother and mother moved to Spokane, WA. Noah attended Evergreen Elementary School, Northwood Middle School, and Mead High School. Noah excelled in competitive chess and band. He qualified for and played in several Washington State chess competitions and U.S. National competitions. His musician skills were equally high. He played the clarinet in Concert Band, tenor saxophone in Jazz Band, and the baritone in Marching Band. Noah even took his musician skills a step further and competitively won positions to play with the Oregon Crusaders and the Seattle Cascades Drum & Bugle Corps. Both organizations are part of Drum Corps International (DCI), a collection of teams performing in more than 100 competitive events that make up the annual DCI Tour throughout North America.
As Noah's mother put it, "He came out of my womb wanting to be a soldier. I told him of course! As long as you go in as an officer." He ended up with two full-ride ROTC scholarships. One for the US Army at Oregon State University and the other for the US Air Force at the University of Portland. After much back and forth, he decided upon the Air Force. After completing a successful first year, he decided to leave school to enlist in the Infantry of the USMC. His mother remembers him telling her, "How can I lead soldiers in battle unless I know what it's like being on the ground first." As hard at it was to hear that, his mother knew Noah was right. Noah found his forever home. He was going to be a lifer. His mother heard it in his voice and saw it in his eyes.
Within his first enlistment period, he received two meritorious promotions. During his second enlistment period, his third promotion was to Sergeant and became Senior Combat Instructor. He applied and successfully completed Officers Candidate School near the end of his second enlistment period. He told his mother he was ready to be the officer he needed to be. During his third enlistment, his fourth promotion was to Staff Sergeant. He was currently serving in the Naval ROTC Unit at the University of California, San Marcos and excelled in his classes.
Words cannot express how much he was loved and admired, not only by his family, but by his fellow Marines. He will be forever cherished and soulfully missed by his wife, Sergeant Rachael Bratcher, USMC, and their five-month-old daughter, Aria Noel. The family asks that everyone keep them in their thoughts, hearts and prayers.
Noah is survived by his wife Rachael, daughter Aria Noel, his mother Kristy, father Cary, brother Lukas, step-mother Amy, step-father Darrell, half-siblings Owen, Olivia and Stella-Kate, aunts, uncles, cousins and countless friends. A memorial service will be held on December 7th at 10:00am followed by a brief reception at Whitworth Presbyterian Church, located at 312 W. Hawthorne Rd., Spokane. A burial service with military honors will be held at the Washington State Veterans Cemetery at 1:30pm located at 21702 Espanola Rd., Medical Lake.
Noah was born a US Marine and died a US Marine. "If the Army and the Navy ever look on Heaven's scenes, they will find the streets are guarded by United States Marines". Heaven's Gate will be forever defended by Staff Sergeant Noah S. Bratcher, USMC.