Thomas Alva Pledge, Jr.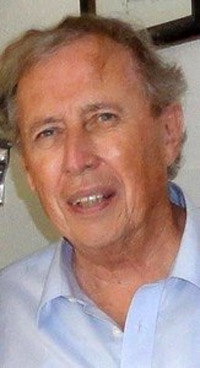 Thomas Alva Pledge, Jr. left his earthly home on Feb 9, 2021. Tom was born in Des Moines, Iowa on July 14, 1934 and, obviously, was named after his father, who was named after Thomas Alva Edison. Since his father moved out when Tom was about two, he never got to know him or hear from him again. His mother, Evelyn Wilson Pledge never remarried nor had any other children, so he had no siblings.
Tom served in the U.S. Navy in 1955-57. After obtaining his college degree (in history) and, also, graduating from the Art Institute of Chicago, he then worked as a newspaper reporter in Chicago, until he was named UPI Chief for the whole state. In that capacity, he was able to personally interview and travel with, on Air Force One, six presidents of the United States. He marched with Martin Luther King, Jr (having bricks thrown at him) and interviewed many famous people, including movie stars like Marilyn Monroe. In 1990 he took a position in Saudi Arabia with SAUDI ARAMCO, the largest oil company in the world, where he served for twenty years, again employing his skills as a writer.
Tom met the love of his life in Austin, TX in 1985, had many great adventures with her (like riding camels and elephants) and loved the Bountiful, Utah home they moved into in 2010 when they left Saudi Arabia.
Tom was highly intelligent and, along with Louise, was a proud member of MENSA (National Society of Geniuses). A life-long scholar, he always enjoyed academic and intellectual discussions. He and Louise loved to travel and were fortunate to have visited many countries in Europe, Africa, the Middle East and Asia, including all of the museums they could find.
His favorite pastime was golf, and it was painful to have to give it up when his health declined. He was especially excited about a hole-in-one that he achieved at Pebble Beach Golf Course in CA.
He is survived by his wife, Louise White Pledge (whom he referred to as "True Love") and some Pledge cousins in Texas.