The following report was written by Zara Imran, granddaughter of Aramco annuitant Engr. Iqbal Ahmed Khan of Karachi, Pakistan.
On the 17th of February 2021, my father got a call from our uncle Adnan Phupa who suggested we join him on his visit to Quetta. My father took a while to answer as he contemplated his busy work schedule and our online school schedule. Due to the on-going pandemic, our school is open on alternate weeks and it just so happened that this week was online. Eventually, my father decided we should pay a visit to Quetta.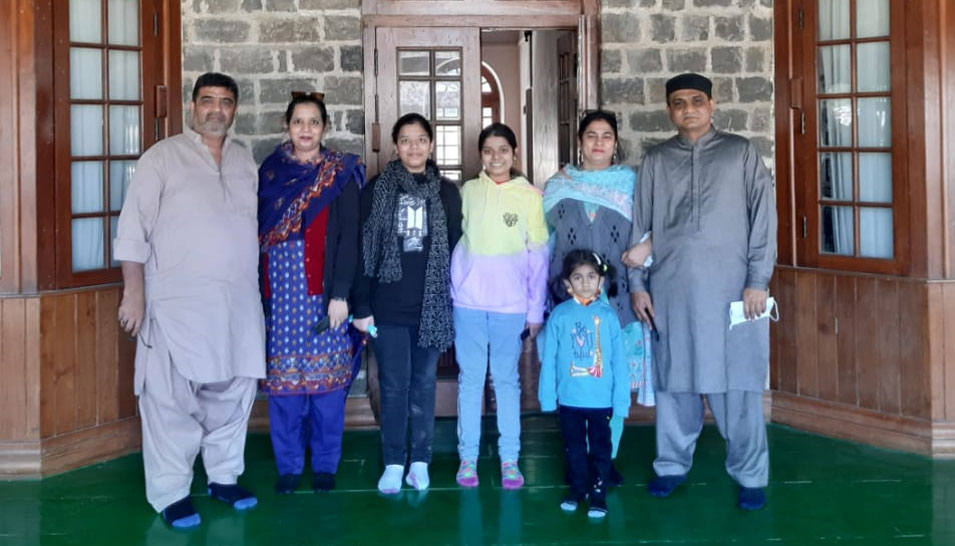 Imran, Erum, Zoya, Zara, Farhat, Ayesha and Adnan at the entrance of The Quaid-e-Azam, Mohammad Ali Jinnah
Father of the Nation
Residency.
Quetta, formerly known as Shalkot, is the provincial capital and largest city of the Province of Baluchistan in Pakistan. It is also the 10th largest city of Pakistan. It was largely destroyed in the 1935 earthquake, but was rebuilt and has a population of 1,001,205. Quetta is famous for its rich fruit orchards which produce the best apples in Pakistan. The University of Baluchistan is also located in Quetta. Quetta has always been a military station and even after the partition it is because of many military establishments that its business and life thrive.
In preparation for our family adventure to Quetta, everything was packed in a hurry. We would travel from Karachi to Quetta by car, leaving in the early hours. My sister and I slept barely three hours, too busy packing our school books. My mother cooked her famously delicious Pulao while my Phupo cooked mouthwatering Aloo Keema and Chicken Rolls for the long road trip. We left our house at 6:30 AM sharp for a journey of nearly 10 tiring hours!
The distance from Karachi to Quetta is 689 km (366 miles). It was lively going to Quetta with my Phupo (Farhat) and my little cousin, Ayesha. My uncle, Adnan Phupa, drove separately. We were thankful for the random public bathrooms along the way. About halfway to our final destination, we arrived in Khuzdar.
Khuzdar, historically known as Quṣdār, is the capital city of Khuzdar District in the central part of Baluchistan Province, Pakistan. Khuzdar is the third-largest city of Baluchistan Province and it is the 47th largest city of Pakistan by population according to the 2017 census. The distance to Khuzdar from Karachi is 205 miles.
After having lunch at the Awaami Hotel in Khuzdar we began the next half of our journey. I discovered that my grandfather, Engr. Iqbal Ahmed Khan, worked in Khuzdar from 1973 to 1976 with Bolan Mining Enterprises as a Project In-charge, he was posted there on loan while he was an employee of Pakistan Petroleum Limited. So we were very proud while passing through Khuzdar! After 5 hours, we finally reached beautiful Quetta.
Erum, Imran, Zara, Ayesha, Farhat and Adnan on their way to Ziarat.
In our search for overnight accommodations, we came across a reasonably priced, luxury hotel called Hotel Bloom Star. It offered self-parking and neat, clean rooms with a heater and hot water provided. There was a garden too. The room service attendant was very kind. That night we all were so tired that we couldn't lift a finger. We slept soundly and woke up the next morning at 7 AM ready to visit Ziarat.
Ziarat is a city in the Ziarat District situated in the Baluchistan province of Pakistan. It is 130 kilometers from Quetta. The Quaid-e-Azam, Mohammad Ali Jinnah Father of the Nation Residency is in the valley where Quaid-e-Azam spent a few of his most memorable days.
After two hours of driving through tall, beautiful mountains, we arrived in Ziarat at the Quaid-e-Azam Residency. We took photographs as we entered the residency and explored the ancient place. It was amazing to experience the lifestyle of our leader. To get a preview of his life felt almost honorable.
Afterward, we went to the much-anticipated Zero Point on top of the mountain, and, believe me, it was worth it. It was an amazing, exhilarating experience, and it sure was cold! I was shivering even though I was wearing a hoodie layered over a shirt, jeans, and socks with my Nikes. By the time we finished, our bodies were completely frozen and icy. Smoky breath blew from our mouths and our cheeks turned pink due to the cold.
Erum, Zoya, Ayesha, Farhat and Zara on top of the mountain.
Following our visit, we drove to a hotel that was suggested by a relative, just off the highway, Al-Dubai Hotelenjo. Here, we enjoyed a very reasonable and absolutely delicious meal. After having Sajji and Keema, we headed to Askari Park, recommended by Google maps. Unfortunately, the park wasn't as nice as I expected. It was very average with only a few swings and minimal facilities. Later, we went to Liaquat Market to see what all the hype was about. We had been told we didn't want to miss it. The market was beyond overcrowded. There was a huge street filled with food vendors where rich, mouth-watering aromas scented the air. Among the shops, we stopped at a shoe shop to see the traditional Balochi Khussay and surprisingly ended up with fluffy slippers.
The next day I woke early, tremendously excited to visit Hanna Lake.
Hanna Lake is a lake in Urak Valley near Quetta city in southwestern Pakistan. It is surrounded by mountains.
We reached Hanna Lake in about 1-1/2 hours. It was a very bumpy ride. The lake was surrounded by picturesque mountains, verdant trees and bushes. There were various kinds of swings there too. After exploring Hanna Lake, we went to Hanna Urak. Hanna-Urak Waterfall is located near Hanna Lake in Urak Valley. We couldn't get to the actual waterfall as one needed a license/permission and was too far away, but we did get to see a mini version of it, slightly larger than a stream. We stepped in the water with our shoes on, the water was freezing cold. It was as if literal ice had been poured on us and we were shivering. We collected the fresh water in our bottles as it was clean, drinkable water. The stream was shimmering under the gleaming sun and looked ethereal. The sound of falling and gushing water in the distance reached our ears making it more heavenly. Then, we took some amazing family photos while in the water making various poses. After having loads of fun, we headed to our hotel in our soaking wet clothes. On the way, we came across a vendor selling pakoras so we decided to try them out. They were so tasty that they made us yearn for more. After having the pakoras we went to our hotel and changed. The kids remained in the hotel while the grownups went to the bazaar to shop for our relatives. We had biryani for dinner which was unexpectedly good!
The next day, we awoke at 4 am to begin our journey home. I was very sad to leave Quetta but thankful to experience its beauty. For me, the highlight was getting to witness what I can only describe as mind-blowing nature; those high mountains and fresh streams amazed me. I'll surely visit again soon! But for now, this trip was one of a lifetime!