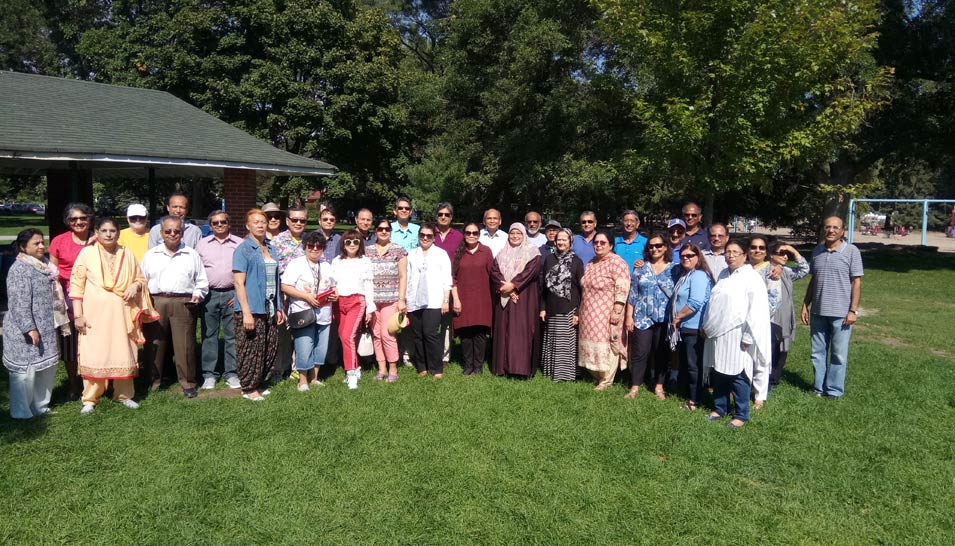 On a beautiful sunny Saturday, September 15th, the 5th Aramco reunion was held at the Woodbine Beach Park. Thirty-nine ex-Aramcons, and 8 guests met up for a fun-filled afternoon. Rafiq Syed and his wife were visiting here from Hyderabad, India, and attended the picnic along with their son, daughter-in-law and 3 grandkids.
Since we meet once a year as a large group everyone was reminiscing about their time in Aramco, and catching up with each other.
We also played a game of visiting the 4 cities: Abqaiq, Dhahran, Ras Tanura and Udhailiyah. Everyone participated in this. They had to visit the different cities and when the gong sounded they had to "park" themselves in one of the cities. From a pack of cards one city was selected, and whosoever was visiting that city, had "to leave".
The delicious food of Veal Biryani, kababs, chicken and lamb dishes, as well as several vegetable dishes was enjoyed by all. As it was expected to be a hot day, there were lots of soft drinks, watermelon and ice cream.
Here is a list of everyone who attended in alphabetical order: Farhat Begum and Anwar Baig, Cathy and Fraser Brown, Marina Burn, Jasmine and Wilfren Carvalho, Delia and Tom Chih, Tamara and Asim Iqbal, Nelofer and Razi Khan, Anwar Khan (who came all the way from Niagara Falls), Khalida and Salman Khan, Khalda and Musroor Khan, Yasmin and Farouk Khory, Nikita and Raveena Kokal (both sisters are Aramco children who now work in Toronto), Wing Kwan, Kiran and Jay Lal, Nabila and Shahid Naeem, Parin and AlNoor Ratansi, Farzana and Yousef Sheikh, Fareeda and Yousef Syed who had brought Rafiq Syed and his wife, (who were visiting from India), Ghonee and Donald Thew, and Nahed and Zia Ziauddin. Guests included Arpita, Savita and Anil Madan, and Rafiq Syed's son and his family.
The Reunion was organized by Yasmin Khory and Jasmine Carvalho, who plan to keep organizing this event every year, with the hope that more and more ex-Aramcons will join in.