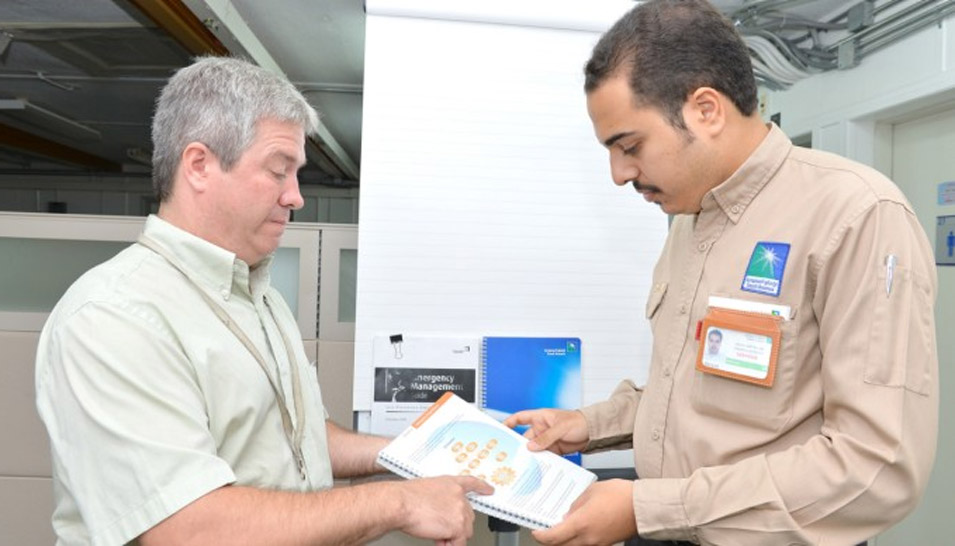 Mentor Tony Martinez, left works with mentee Fahd Busbait on a regular basis
At Saudi Aramco facilities around the Kingdom, thousands of talented young employees are making an impact on the company, taking on crucial projects and positions of great responsibility. With a large percentage of the current workforce now young employees, this influx of boundless energy and fresh perspectives have presented the company with an incredible opportunity.
How can Saudi Aramco ensure that its employees have the technical and professional skills they need to do the job effectively and efficiently?
One of the answers is the Knowledge Transfer (KT) program, an initiative from Saudi Aramco's Training and Development organization. Launched in 2009, the KT program matches talented young employees with more experienced staffers, some of them with decades of valuable experience.
Originally targeting staffers in technical operations, the KT program now has a vision of developing a companywide system for facilitating learning across all departments — both in technical operations and in professional offices.
Today, KT is part of Saudi Aramco's corporate culture, and those who participate in the program — both mentors and mentees — say that they can see immediate benefits, not only for the company, but also personally. The spirit of KT can now be found throughout the company. 
Power Operations
KT program mentee Salah Al-Jassim
As a technical adviser with 32 years of experience working for the Northern Area Power Operations Department, Sunny Thomas is a natural choice as a KT specialist, ensuring that technical knowledge and critical behaviors are passed from the older generation to the younger generation.
With 2,214 competencies identified for employees of Power Operations, Thomas has his work cut out for him.
Fortunately, Thomas has a number of talented mentees who have been identified as ideal candidates for KT. One of these mentees is Salah Al-Jassim. A former power systems specialist at the Saudi Electric Company (SEC) and at SABIC, Al-Jassim came with a great deal of work experience. But Saudi Aramco's needs were different to those of his previous employers, and Al-Jassim was only able to prove competency in 950 — less than half — of the competencies required by Northern Area Power Operations.
Thomas quickly created a plan to address those competencies that Al-Jassim was missing, and to raise competency levels in all areas from awareness and fundamental knowledge to skilled levels and mastery.
"There was a system of specialty training completed at ITC classrooms, and that was fine, but when it came to tacit knowledge, it was not adequate; you have to learn by doing," said Thomas. "Now, we integrate Salah's KT program with his daily work. Salah will be on the site first, then he passes information to his supervisor, and then they send expert employees to work alongside Salah to complete a task."
Al-Jassim said he feels he is progressing much faster in his knowledge and skills under the KT program.
"When I see the program, it looks like a ladder, and I go up one step at a time," he said. In a very short time, Al-Jassim has increased his competency from 48% to 72%, and that makes him proud. "I want to thank Mr. Thomas for the progress, and for his patience," he said.
Loss Prevention
Tony Martinez is an engineer with the Loss Prevention Department (LPD) and is a point person for LPD on the company's Emergency Response Plan. To help transfer his knowledge to a younger generation of employees at LPD, Martinez was asked to serve as a KT provider and to work with young LPD engineers such as Fahd Busbait.
"I developed a plan and broke down the Emergency Response Plan into manageable chunks," Martinez said. "I gave workshops about credible scenarios, and he attended those. After I provided the knowledge, I could monitor and provide comment on his work. The plan gave structure and I was able to measure the knowledge receiver's progress. The best part of the program is that this is on the job. He's learning while doing his work."
Public Relations Operations
Ghada Awdah serves as KT coordinator in
the Public Relations Operations Department.
In the Public Relations Operations Department, which is responsible for organizing external conferences and other public events in the Kingdom and around the world, Ghada Awdah serves as the KT coordinator.
"The Knowledge Transfer program provides us with a structure to identify the skills we need to organize public events, and it helps us to ensure that new employees have the skills they need to do their jobs well," Awdah said. "As a result of KT, we have re-evaluated what functions require more training. We have identified those employees who will be retiring soon and what knowledge they have that we need to retain in our organization. And finally, we identify who will get knowledge and serve as their backup. By making this a structured process, we make sure that when our experienced employees retire, we can maintain the same excellence in our events we have had in the past."
A Win-Win
Participants in the KT program describe it as a win-win for their organization and for their people. KT gives young employees the competencies and confidence to do their jobs well. It also gives experienced employees the satisfaction of seeing that their hard-earned knowledge will remain with the company where they have spent years, and even decades, of their career. And for Saudi Aramco, it's a key program for making sure that Saudi Aramco maintains its position as the world's most reliable supplier of energy, even as it supports the Kingdom's aspirations to diversify its economy and to become a hub of innovation and investment.