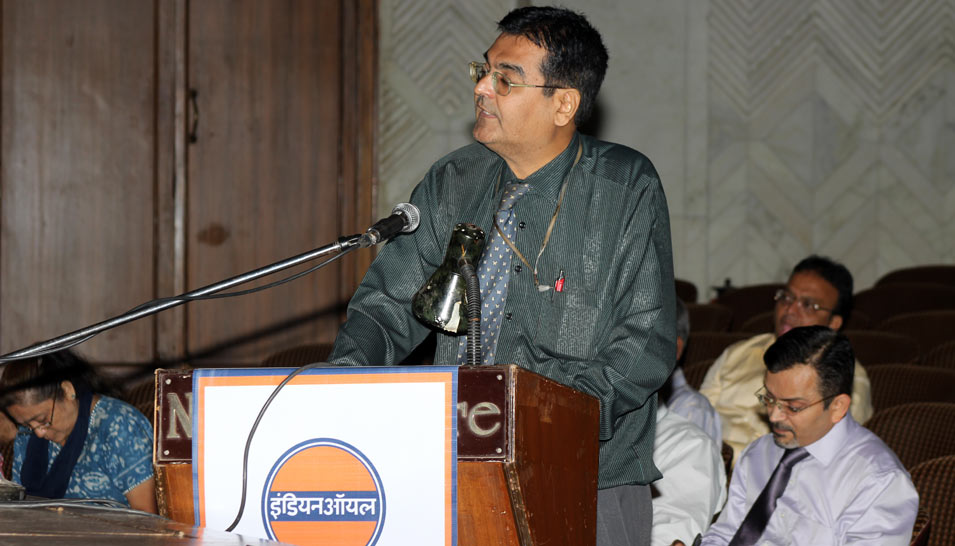 Mihir presenting at IOC meeting
The port city of Mumbai in India was originally cobbled together from seven separate islands over 1,000 years ago, forming a part of the Kingdom of Ashoka. For hundreds of years, it was known by the name given to it by Portuguese colonists in the 16th century, Bombay. Bombay was derived from the expression Bom Bhaia, Portuguese for "Good Bay." In 1995, Bombay was renamed Mumbai, after the Hindu goddess Mumbadevi, the city's patron deity.
Thriving and multi-cultural, Mumbai today is home to over 10 million people. One of its proud residents is Aramco ex-employee, Mihir Manek, Badge Number 144282. Mihir came to Saudi Arabia in 1994 to work as a Staff Analyst in Dhahran. There he made his home for several years in the Al Munirah complex.
Mihir giving speech at annual general meeting of Indian Oil
Mihir considers Aramco a world-class operation and would gladly have lived and worked in the Kingdom until reaching retirement age had he not experienced a stroke due to a blood clot on his brain resulting from an injury he suffered unrelated to work. Circumstances following his injury compelled him to resign from the company and seek his fortune elsewhere. We are pleased to report that he did so with great success.
Mihir's later professional career took him to such global outposts as Qatar, Muscat, Dubai, and the Maldives. In Canada, he enjoyed permanent resident status from 2002 to 2007 and studied at the University of Calgary. Today he calls Mumbai home and is director of three different companies in India.
Mihir at Tata Chemicals
Mihir at AGM giving flower bouquet to chairman Sanjay Singh of Indian Oil
While living in Saudi Arabia, Mihir enjoyed treks into the deserts and rides on company buses to places like Khobar, Ras Tanura, Dammam, and other cities across the Kingdom. He continues to follow developments in the Kingdom and is excited by the news of Aramco's IPO scheduled for next year.
"Hats off to Aramco and Aramcons!" he writes.
Long since recovered from his stroke, Mihir enjoys running, reading, music, and yoga. He plans to compete in a mini-marathon scheduled for the 12th of November in Mumbai sponsored by financial giant IL&FS Investment Managers Limited. As busy as he has been doing all that, he still has somehow managed to find time to eke out a career as a public speaker!
"Hats off to Mihir Manek!" says Aramco ExPats.
Mihir invites readers to contact him via email at [email protected] His home address is: Mumbai Flat 15, Plot No. 81 Badri Vishal Rafi Ahmad Kidwai Road, Wadala, Maharashtra Mumbai, India.