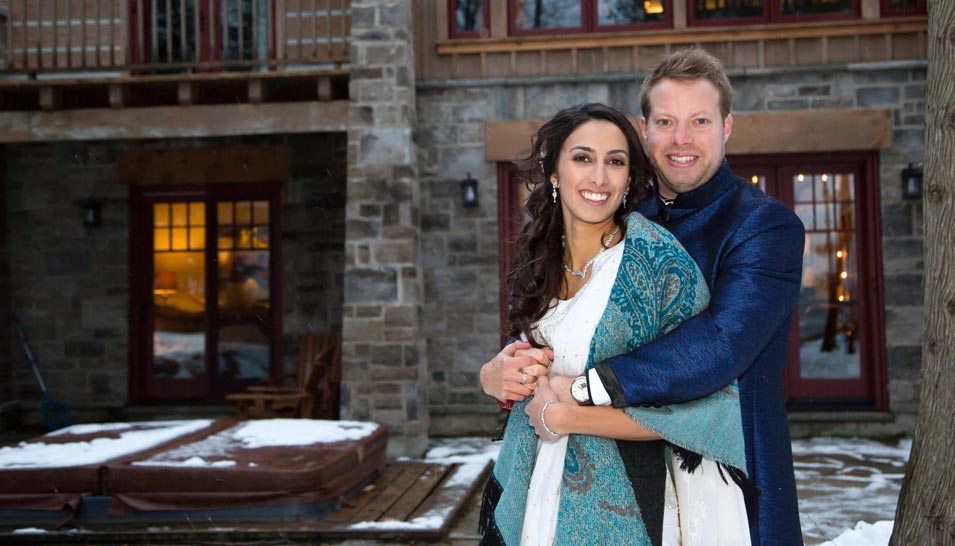 Navaz Khory and Stewart Dean in front of the cottage
On December 29th, 2016, Navaz Khory, daughter of Farouk and Yasmin Khory of Dhahran, married Stewart Dean, son of Ken and Lyndy Dean, at a cottage in the small town of Leith, north of Toronto, Canada. It was a winter wonderland wedding attended by family and close friends who came from Brisbane, Hobart, Melbourne, Bangkok, Seoul, Istanbul, Hong Kong, Calgary, London, Los Angeles, Pittsburg, and of course Toronto. Bridesmaids included sister Tanaz, Sarah Dean, Christina Emanuele, and long time Dhahran friend, Caty Tems.
A reception was also held on December 31st, in Toronto which was attended by several ex Aramco friends: Bhuvana and Vansan Ananthnarayanan, Jasmine, Wilfred, Marc and Maria Carvalho, Bing and Mario Chan, Uma, Gabriel and Ashish Fernandez, Tanaz, Alim and Kamran Jivraj, Ada and Wing Kwan, Maha and Salman Naeem, Bibi and Mohamed Patel, Nita, Om Prakash, Shivani and Himani Sharma, Caty Tems, and Ghonee and Donald Thew.
Farouk and Yasmin Khory lived in Dhahran from September 1991 till they retired from Saudi Aramco at the end of January 2012. Navaz attended Dhahran Hills school and the Dhahran middle school. She is currently an elementary school teacher at the Istanbul International Community School in Turkey, where Stew is the Physical Education teacher.
We wish Navaz and Stew a very happy and prosperous married life.