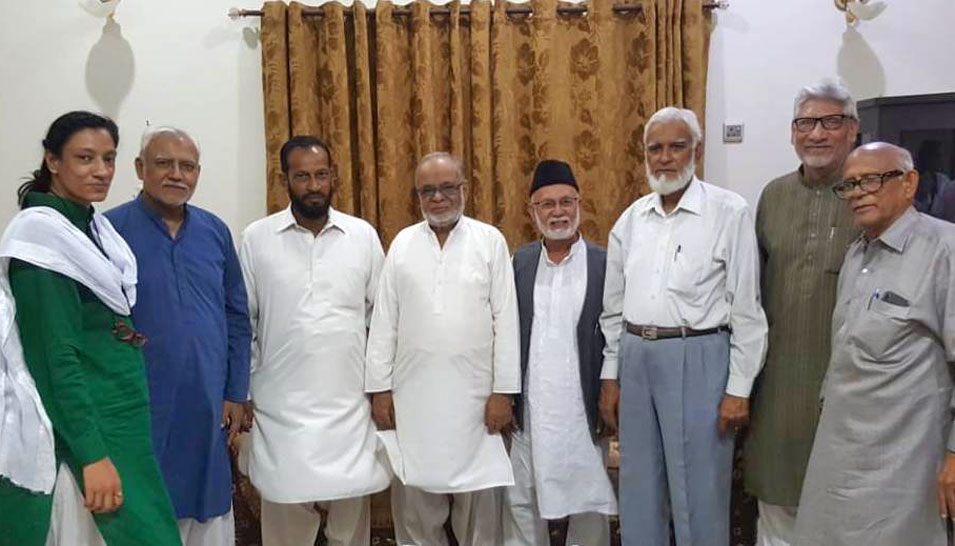 Ms. Huda Shaikh, Syed Shabbar Hassan Abidi, Manazer Hossain, M. A. Matin, Engr. Syed Waqar Fakhri, Kamal A. Farooqi, Muhammad Salim Hamid and A. R. Mansoor
It is Saudi Aramco Ex-Employees Association's prime responsibility to keep all its members intact and tailor programs that attract most of the members. So President, Kamal A. Farooqi, felt the necessity of establishing a new group 'HALQAE SHERO ADAB" where members may meet and enjoy Urdu poetry and literature.
In order to satisfy SAEEA need Kamal requested Syed Shabbar H. Abidi, who is well versed in the field to establish a group. Shabbar established the group and threw the news among SAEEA Members and some outside friends. A total of 20 persons showed their interest. Accordingly, Shabbar arranged a get to gather at his residence on December 01, 2018. A total of nine persons attended as per following detail:
Kamal Ahmed Farooqi
Muhammad Salim Hamid
Mohammad Abdul Matin
Syed Shabbar Hassan Abidi
Engr. Syed Waqar Fakhri
Abdul Razzak Mansoor
Manazir A. Hossain
Ansar Aazmi
Ms. Hoda Shaikh
The program started at 4:30 and last until 8:30 pm. Event photograph is attached. In addition of reading poems etc, the attendees showed their interest in continuing these kinds of events with two months interval. This will be in between SAEEA regular reunion gatherings.
Therefore, the next SHAERO ADAB gathering will tentatively be held on February 02, 2019. This will be the second gathering and SAEEA expects to have a big number of attendees. Later, SAEEA has a plan establishing a new music group where Members may sing, play music instruments etc.
If you have any questions/suggestions then please call Engr. Iqbal Ahmed Khan on +92-321-701-4929 or write to him on iqbalkhan.2010@live.com