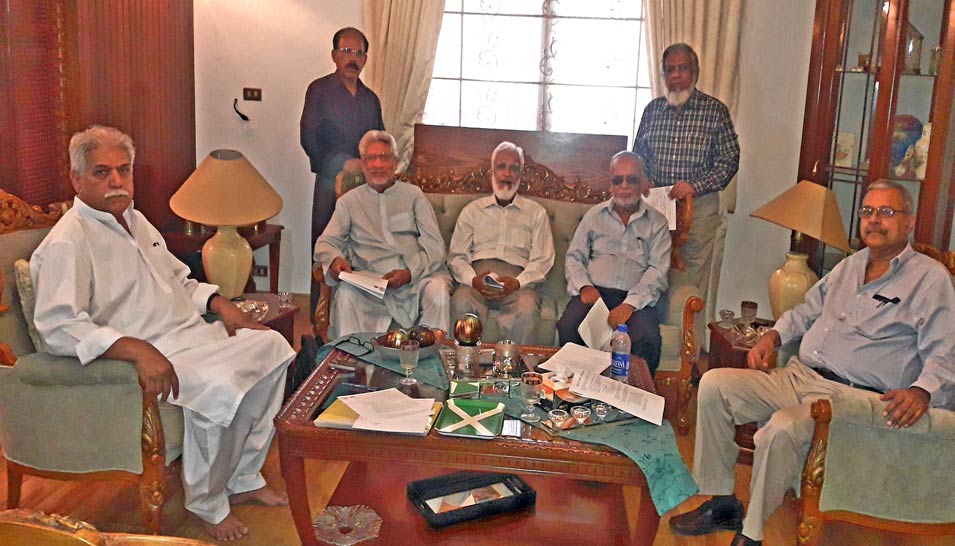 Asif Mirza, Muhammad Salim Hamid, Kamal Ahmed Farooqi, Mohammed Abdul Matin, Arif Qamar Standing, Shafiq Ahmed Khan, Engr. Iqbal Ahmed Khan
The monthly progress meeting of Saudi Aramco Ex-Employees Association (SAEEA) was held on February 24, 2018 at SAEEA very active Member and great supporter, Mr. Asif Mirza. This was SAEEA 2nd meeting of current year 2018. Besides few other issues, the main purposes of the meeting was to review and finalize activities for the forthcoming SAEEA 18th Reunion on March 03, 2018.
Kamal Ahmed Farooqi - President SAEEA
Engr. Iqbal Ahmed Khan - Vice President SAEEA
Mohammed Abdul Matin - Coordinator SAEEA
The attendees were as follows:
Kamal Ahmed Farooqi (KAF)
Engr. Iqbal Ahmed Khan (IAK)
Arif Qamar (AQ)
Mohammad Abdul Matin (MAM)
Muhammad Salim Hamid (MSH)
Shafiq Ahmed Khan (SAK)
Asif Mirza (AM)
Muhammed Salim Hamid - Finance Secretary SAEEA
Shafiq Ahmed Khan - Joint Secretary SAEEA
Mr. Asif Mirza - The Host
The highlights of the meeting were as follows:
KAF thanked Asif Mirza for arranging meeting at his house. AM also arranges a delicious lunch for the attendees.
KAF, with assistance of other attendees, went thru the set up and other facilities of the Arena Club. This will be SAEEA 2nd function at the same place.
The main discussions are:

The place has some restrictions, so all attendees to cooperate with the Event Organizer, Arif Qamar. No direct contacts with Arena Club Management.
Each paid Member to get a free game ticket. Non paid children (under 7 years of age) are not eligible for free game. So, the children may use their parent's tickets. The tickets would be used for 15 days after the issuance date (March 03, to March 17, 2018). AQ is responsible for issuing the tickets.
There are several Members/Guests currently visiting Pakistan and joining the reunion. KAF to introduce one by one during the Reunion.
There are lucky draw prizes for Ladies and Gents separately. The coupons will be available at the Reception. So, the participants must get the coupon(s) at the time of entrance.

After the death of a very active SAEEA Member, the deceased Wife contacted SAEEA for becoming a regular Member in place of her Husband. KAF approved and requested MAM contacting other Families as well to check whether or not they are also interested in becoming regular Members.
KAF requested AQ making partial payment to the Club. The final payment will be made on the first March, 2018. So, the Members are requested to hurry up and register their Families attendance as soon as possible.
IAK updated SAEEA website activities.
IAK has been working with a website company to initiate a special program where we can easily get SAEEA Members data in different modes.
MSH presented SAEEA accounts.
Asif Mirza audited SAEEA last year's account and approved the same in a satisfactory manners.
KAF requested SAK to make arrangements for printing Lucky Draw Coupons before the event takes place.
KAF prayed for all sick people and made Dua Maghferah for those who are not with us.
If you have any questions then please call Engr. Iqbal Ahmed Khan on +92-321-701-4929 or write to him on iqbalkhan.2010@live.com