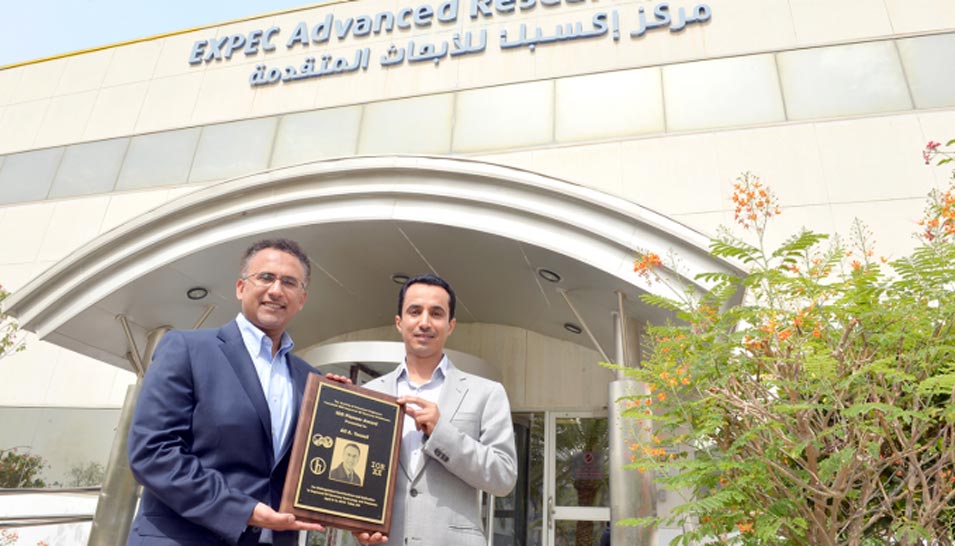 Ali Al-Yousef receives congratulations from Ali Al-Meshari, EXPEC ARC manager, for receiving the IOR Pioneer Award
Ali Al-Yousef, Reservoir Engineering chief technologist with the EXPEC Advanced Research Center (EXPEC ARC), was in the spotlight at the recent Society of Petroleum Engineers (SPE) Improved Oil Recovery (IOR) international conference where he was recognized with the IOR Pioneer Award.
The IOR conference at Tulsa is the world's premier SPE meeting in the area of improved and enhanced oil recovery (EOR).
A History of Enhanced Oil Recovery Excellence
Considered a top honor among the worldwide IOR and EOR community, the award recognizes Al-Yousef's significant achievements and successful applied research projects related to IOR, waterflooding, and EOR. He pioneered, patented, and deployed Saudi Aramco's in-house SmartWater flooding technology; played a pivotal role in planning, developing, and implementing the EOR road map for the company; and now leads more than 50 EOR scientists, engineers, and technicians — all dedicated to the development of various EOR processes and reservoir engineering innovations.
"It is indeed a great honor to receive this award," said Al-Yousef. "Such an achievement exemplifies the immense dedication of the team as well as support and encouragement from Saudi Aramco and EXPEC ARC over the past several years in successfully developing the SmartWater flooding idea from concept all the way to field implementation."
Such recognition at this highly reputed SPE international conference demonstrates EXPEC ARC's leading edge in IOR/EOR research and development. Bold undertakings, such as these by Al-Yousef, are not only supported but highly encouraged at EXPEC ARC.
Author of more than 60 papers, Al-Yousef holds eight patents and has received the Saudi Aramco CEO Excellence Award for his research. In 2011, he also received the ADIPEC Best Oil and Gas Innovation and Technology Award in the Middle East/North Africa region for the SmartWater flooding approach.
SmartWater Technology
The Exploration and Petroleum Engineering
Advanced Research Center – also known as
EXPEC ARC – located at our headquarters
in Dhahran, is just one of a network of Saudi
Aramco research centers.
The SmartWater technology invented by Al-Yousef is an elegant and cost-effective recovery technology based on plain water. The technology maximizes cost efficiency by tuning ionic properties of seawater and uses the company's existing huge water injection infrastructure to increase recovery. The process has been successfully field-tested and is expected to transform production at Saudi Aramco in the coming decades.
The high-value deployed technologies by EXPEC ARC, such as IOR/EOR, are having a positive impact on our upstream customers' field operations. The technical processes and innovative solutions are providing considerable return on research investment through both cost-savings and ever-increasing hydrocarbon recovery.
The IOR Pioneer Award
The SPE IOR Pioneer award program commenced in 1984. Ali is the first IOR pioneer from outside North America to receive this prestigious award over the 30-year history of the symposium.
The IOR Pioneer Award recognizes individuals who have made significant contributions to the development of IOR/EOR technologies over many years through research and field applications.
Nominees must have received industry recognition for involvement in one or more phases of IOR activity and dedicated two to four decades of their career to the development and application of leading-edge technology designed to increase recovery from older oil fields.