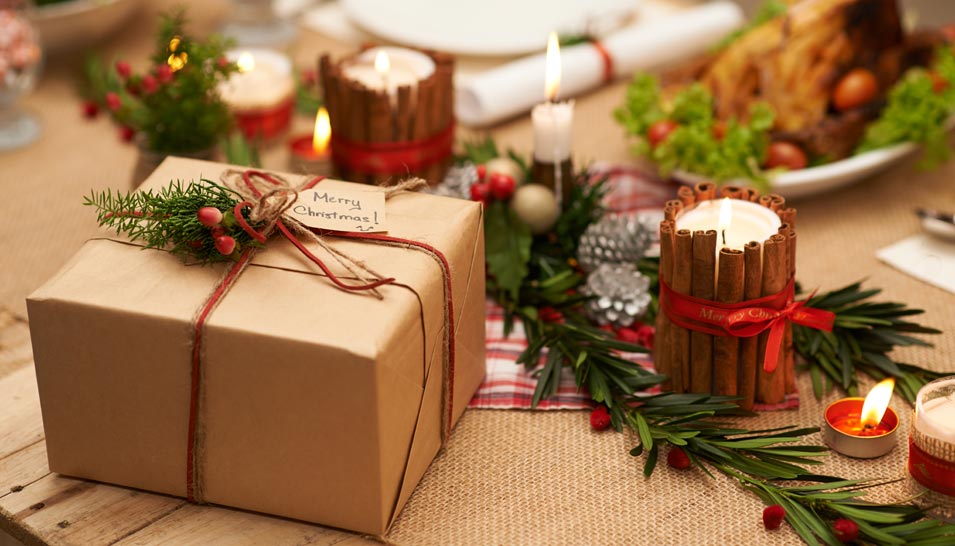 If you're tasked this holiday season with feeding a house full of hungry kith and kin, here are some ideas you might find helpful.
Always remember that holidays like Christmas and New Years are meant to be days of joy, of celebration, of love. Starting your celebration with something fun will help set the mood for the rest of the day and evening.
Fun can take many forms. Given that dinner is at the center of the day's activities, perhaps you can design a colorful centerpiece for the table, or find one that you like at a local store.
When planning your menu, you will want to include all of the traditional fixin's. My approach is, this is the perfect time of the year to prepare an extra-special dish, something you won't find on your table any other time of the year.
Everyone has their personal favorites. Perhaps for the carnivores amongst you an Herb-Crusted Standing Rib Roast or, glory of glories, a Crown Roast will suit your fancy. Or maybe Glazed Ham with Apricot-Mustard Sauce or some other ham recipe is more your style. For traditionalists, how about a fat Goose Roast like the one Tiny Tim dreams of being served in Charles Dickens' beloved novella, A Christmas Carol? Or maybe a Roast Leg of Lamb? Some people like Cornish Game Hens. Seafood lovers might opt for something like Whole Roasted Salmon with Orange Butter Glaze. Vegans, meanwhile, have a plethora of choices available to them. A quick internet search turned up recipes for delightful-sounding dishes like Cranberry Bread Dumplings with Red Wine Mushroom Sauce and Asian Mushroom Wellington. To make this year's holiday meals more memorable, you might also want to consider adding a special side dish your guests would not normally expect, something like French Onion Green Bean Casserole or Orange Carrots with Yogurt-Parsley Dressing.
Perhaps you have your own family traditions that need to be remembered. Some people always serve Apple Pie à la Mode. I know of one family that always serves lasagna. An American acquaintance of Finnish descent insists on preparing a meat dish his iron ore miner grandfathers used to favor, Pasties, something Finnish miners borrowed from their Cornish co-workers and made a signature dish of their own. Use your imagination to come up with something distinctive. Make it something you truly love. If you're really daring, you might look into your family's ethnic history to find a dish that your ancestors might once have enjoyed at Christmastime. And, of course, don't forget all those wonderful dishes you learned to love during your years of living and working in the Kingdom. Is there an Aramcon annuitant anywhere on this planet that doesn't long for some good Shawarma or Tabbouleh, or Kabsa? Search your memory and I'm sure you'll find something delicious you can prepare for a special holiday season occasion.
There's a chance your guests will include people of all ages, ranging from grandchildren to grandparents and everything in between. It's a good idea to plan your thirst quencher menu to address the tastes of everyone, not just the old-timers. You might want to serve sparkling cider to the children in champagne glasses or create something like a non-alcoholic Sparkling Cranberry Punch that can be served to everyone. Toasts are a big part of most holiday dinners. Be sure that everyone has an appropriate glass and liquid refresher to toast with.
And don't forget Christmas cookies, gingerbread men, and candy canes. Children of all ages can't resist them.
Keeping things simple improves any holiday dinner. You need not serve twenty different dishes to achieve success. Offering five or six of the right dishes, properly prepared and presented, will be more than enough to make your evening memorable. You might even consider serving something store-bought, or prepared to order by a special meal service. Nobody will care if you do it right. The fewer minutes you spend in the kitchen, the more time you'll have to spend with your guests.
Offering snacks before dinner is okay. Tasty appetizers are always a winner and are a good excuse to go the store-bought route. If you have time, look around town to find one or two that are "just right." The bright decorations of the season will help put you in a festive mood, and who knows what you might find? All you need to do is look, and something fun will surely pop up. Make your holiday shopping preparations an adventure, not a task. Why not have some fun along the way?
Plan ahead for the kids. The busier you keep them, the happier they and everyone else will be. Try to find them a new game they haven't played before. Or maybe even find a simple recipe they can help you or one of your fellow adults prepare. Make them part of the preparation if you can. That way, they'll take ownership and pride when dinner is served.
In my family, we always had at least one giant jigsaw puzzle for everyone to work on. It's amazing how determined people of all ages get trying to figure out which piece goes where. The simple puzzles have 300 pieces; the more complicated puzzles, 500, 1,000, or even 2,000 and more. It's said that an expert can fit together 100 pieces an hour. That could easily translate into 5, 10, 20, or more hours of frustration and fun to be shared by everyone.
Make music a part of the day. Organize a sing-along with printed lyrics for a few key songs. "Count Your Blessings (Instead of Sheep)" and "My Favorite Things" are two holiday favorites associated with Christmas. Both are suitable for singing anytime in December. And don't forget two of the greatest Christmas standards, "Silent Night" and "Hark the Herald Angels Sing." A home filled with joyous music is certain to be a hit with all your guests, even those like me who "can't carry a tune in a bucket," as my parents used to joke.
You might want to distribute special little gifts to each of your guests. Or, as an alternative, consider giving each of them a special, personalized card or note thanking them for the joy and fellowship they have brought to your life.
Anyone who ever lived in the Kingdom and worked for Aramco for any length of time carries with him or her fond memories of gatherings of family and friends in one of the compounds to celebrate various holidays, not just Thanksgiving or Christmas or New Years. Apply that same spirit of friendship to your holiday celebrations any time of the year and you will guarantee yourself some joyous new memories.