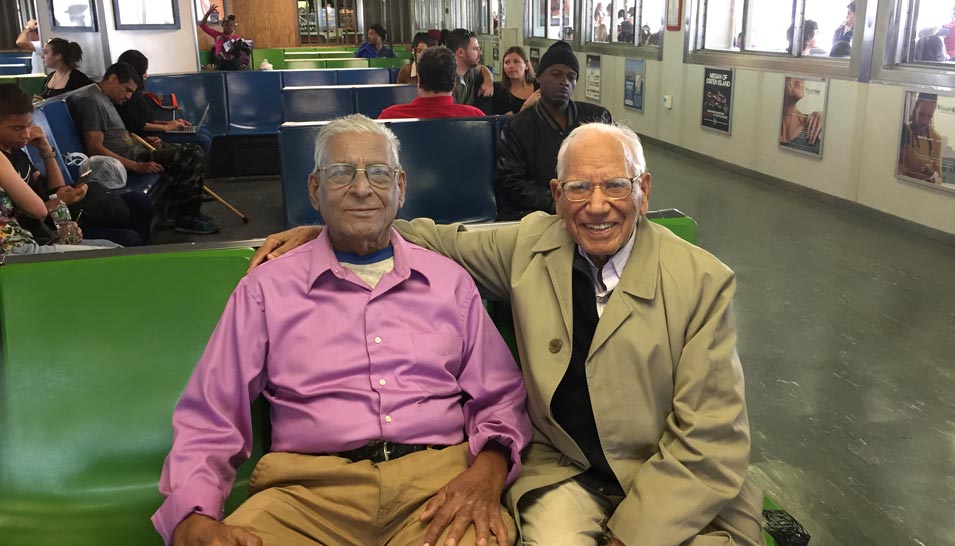 Mohammad Khokhar and Shaikh Amin
Shaikh Amin, retired chief photographer of Aramco, recently went on his yearly tour of the USA to attend the annual Photographic Society of America conference and spend time with his family and friends. In this photo, Shaikh sits with his Aramco friend Mohammad Khokhar. Shaikh lived with Mohammad in Al Munirah camp for many years.
While visiting New York, Shaikh arranged a meeting place with Mohammad. From there they took a ferry ride to Staten Island. They spent several hours together remembering their Aramco days.
Mohammad writes:
"First of all, I want to thank Aramco ExPats website which enables (us) to meet and greet many Ex-Aramcons and exchange their good old day's history while they were working for Saudi Aramco. I am one of them to meet and greet Shaikh Amin personally in New York on a planned Staten Island Ferry ride on October 21, 2017. At the end of the day, I felt like as if I was re-born with a new life.
Shaikh Amin retired from Saudi Aramco as a Chief Photographer in 1985 after 35 years of employment. He was my idol when I joined Aramco in late 1953 and I referred to him as one of the pillars of Aramco.
My name is Mohammad Khokhar known by my middle name "Arif." I retired in mid-1988 after 35 years of serving Saudi Aramco. While working in Saudi Aramco I happened to work in all three areas, i.e. Dhahran, Abqaiq and Ras Tanura for more than a decade in each because of the promotional job opportunities due to my skillful and diligent working habits.
I was hired as a typist and retired as an Oil Refinery Senior Inspector. I know all three refineries, i.e. Abqaiq, Ras Tanura and Ju'aymah LPG plant inside out meaning while on-stream and during scheduled shutdown or emergency shutdowns.
I have been living a very hectic, businessman lifestyle in New York since my retirement. My e-mail is [email protected] and I can be contacted on my cell phone in New York at 1-347-307-2872 for now."